Don't Miss These 10 Top WordPress Themes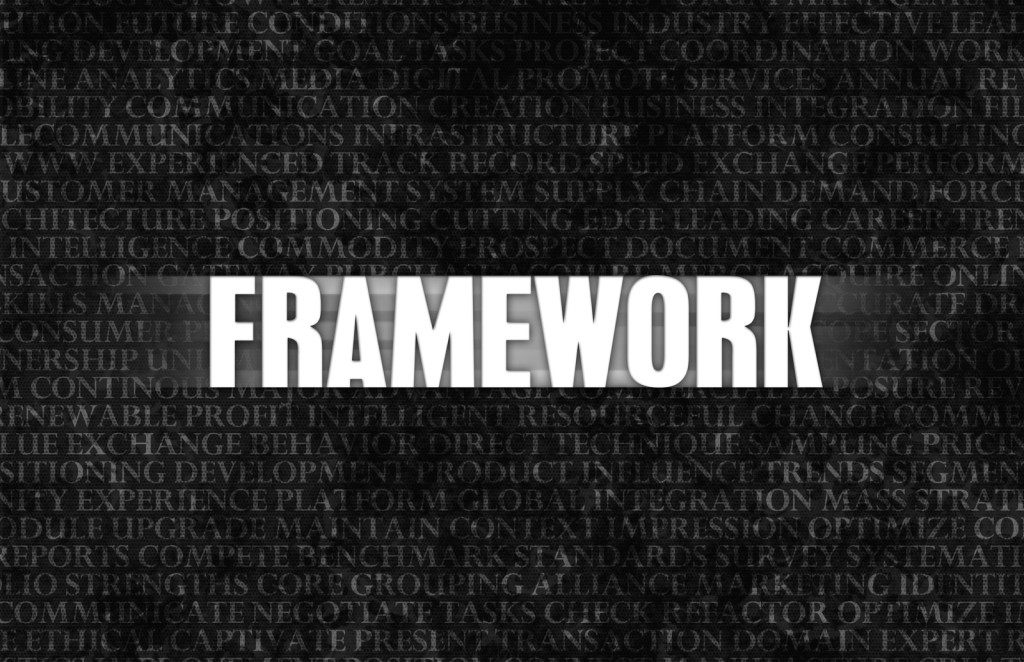 Theme, Framework, Child Theme –  oh my!
Sound like geek speak?
I know some of you are saying, "Please explain!"
What is a WordPress Theme?
A WordPress theme is basically a design that outputs the desired look and feel by taking advantage of core WordPress elements. In other Words, a theme is a set of files that helps to get a desired layout to your WordPress website. One of the most awesome features of working with WordPress as your website platform is that you can change your theme without needing to redo all your pages, posts and content which stay within your database.
What is a WordPress Theme Framework?
A theme framework is a theme with additional functions that gives a developer the flexibility to design. Generally, a theme framework includes an options panel, custom action hooks, custom filter hooks and integration of some scripts library, plugins etc. A theme framework is a library of code that makes it relatively easy for a user to develop unique WordPress themes and child themes.
What is a WordPress Child Theme?
A child theme inherits all functionality from Parent Theme and is used to create custom design. The main purpose of using Child Themes is to update parent themes without losing the customization done on your website . A child theme should contain a functions file and a style sheet only. Apart from this remaining things should be included with parent theme, otherwise child themes will also need an update in future.
Most of the time, theme frameworks make use of the "parent theme" and "child theme" capabilities of WordPress so that you can create multiple custom themes and variations without permanently altering the foundations of the theme, so that it's easy to start again when you want to create a new custom theme.
1. Genesis Framework
Genesis is one of the leading premium WordPress frameworks, and for good reason. The code is clean and optimized for SEO purposes, and the framework follows the best WordPress security practices. The Genesis framework automatically updates itself, so your website code will always be current and fully optimized.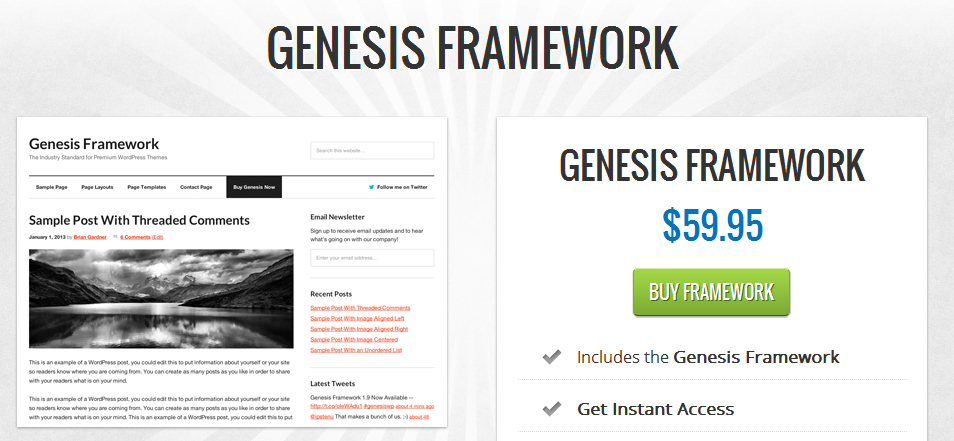 Furthermore, there are many tutorials and educational resources available on the Genesis website to get you up and running quickly. Finally, the purchase of this framework comes with unlimited lifetime support – this can be extremely valuable for a website owner who isn't completely comfortable with the ins and outs of WordPress.
2. Thesis WordPress Theme Framework
Thesis is another leading premium WordPress Theme Framework. The Thesis framework is built upon a three-pronged approach to site design. "Boxes" allow you to add discrete elements of functionality to a new website you are creating without having to write any code yourself. "Skins" provides you with a drag and drop interface for creating exactly the type of look and feel you're after. "Packages" let you make precise CSS customizations without having to know any CSS code or ever have to dig into a single stylesheet.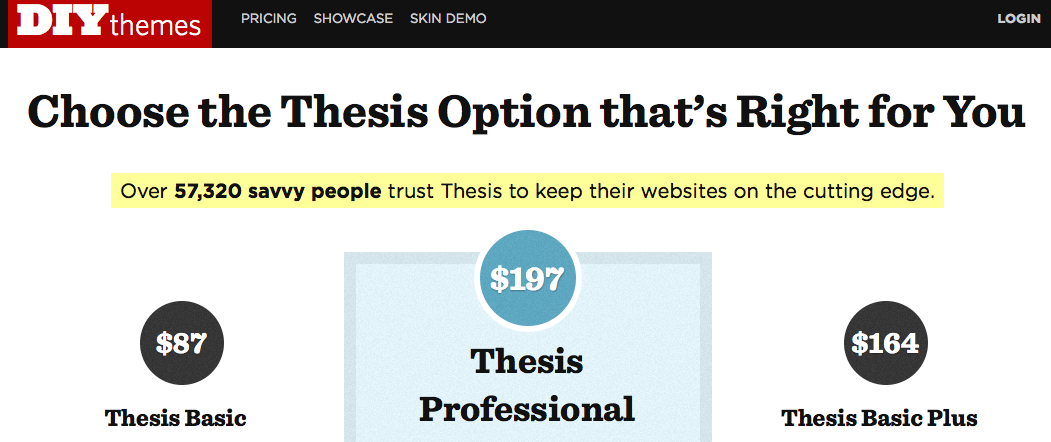 3. Thematic WordPress Development Framework
Thematic. Thematic is a very popular free and open source WordPress theme development framework. Thematic contains a high quality starter theme, but can also be used to quickly build custom themes from scratch. The framework contains 13 widget ready areas in the basic framework, and the possibility for even more in a child theme. The framework is fully compatible with leading SEO plug-ins such as All-In-One SEO and Platinum SEO. Thematic also offers options for multi-author blogs, which can be extremely useful depending on your website needs.

4. Reverie Framework for WordPress
Reverie is another popular free design framework for WordPress. Reverie leverages the power of the increasingly popular HTML5 Boilerplate standard to help users create fast, dynamic and responsive WordPress themes.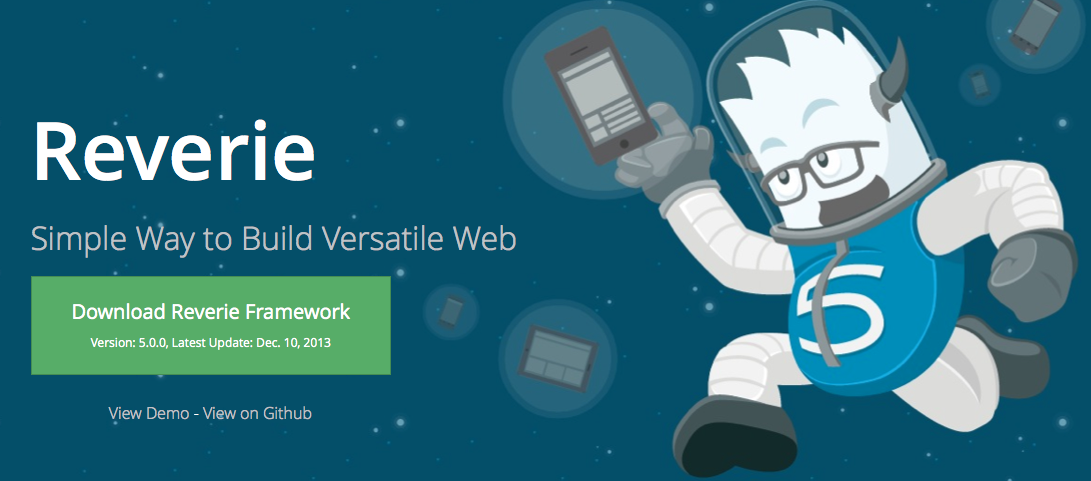 The framework allows for tight and easy integration with bbPress 2.0, which can be extremely valuable if you anticipate wanting to include bulletin board functionality on your WordPress site. Reverie automatically uses a media query to adjust the display for smart phones and tablets, and the framework is particularly optimized for the iPhone and iPod. You may wish to consider this framework if you anticipate a significant number of your users visiting your site from these devices.
5. WhiteBoard
Speaking of frameworks optimized for mobile devices, WhiteBoard is another strong free option. WhiteBoard is built using the leading CSS3 and Less Framework standards, which ensures that your WordPress site content will be as attractive and functional on smart phones and tablets as it is on a traditional computer monitor.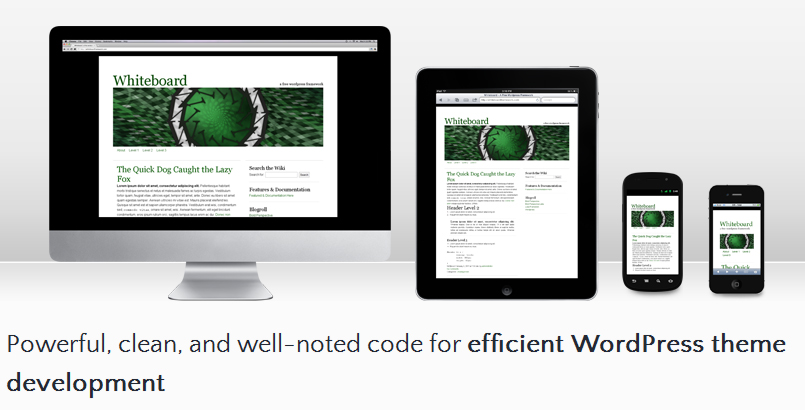 The underlying WhiteBoard code is well noted and commented, so if you or your development staff ever needs to take a deeper look inside the inner workings of the framework, it will be easier to get the information you need. Finally, WhiteBoard claims to utilize more dynamic Classes and IDs than any other WordPress framework, which has the potential to help you with your SEO efforts.
6. Howling Dog Theme Framework
The Howling Dog Theme Framework (and its "K9 Control Panel") is a premium framework that provides a great deal of control over visual aspects of your custom theme. You can quickly adjust virtually any layout parameters in order to achieve exactly the look you have in mind, and your typography options are extremely broad with built in support for the Cufon library of free fonts. This framework also has a particular focus on making sure that whatever themes you come up with will display properly in just about any type of browser your visitor may be using.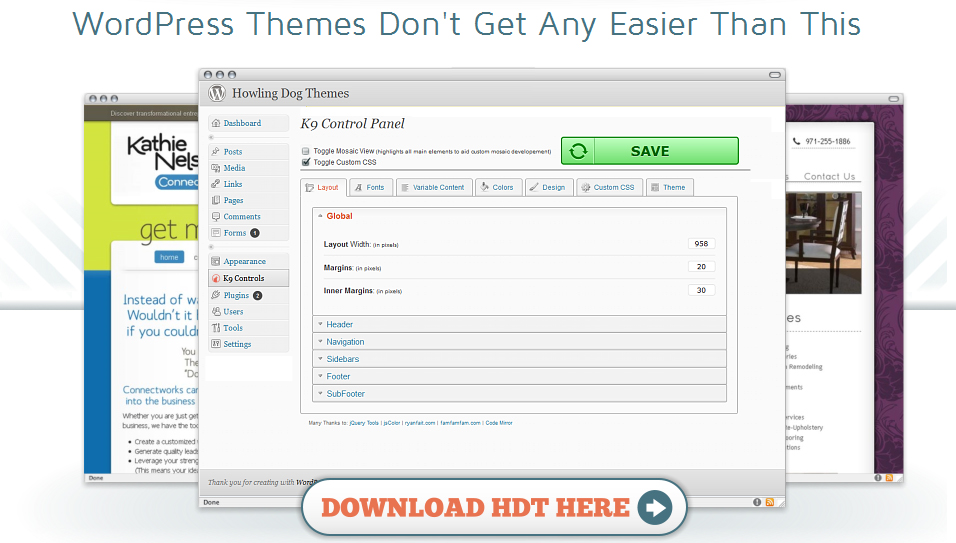 7. Upthemes WordPress Framework
The Upthemes is a free WordPress framework that takes a different approach to custom theming. Rather than starting out from scratch, you can use the Upthemes Framework in conjunction with a WordPress theme you already have. You can use Upthemes to customize the layout and color schemes of your theme, quickly change the header and background images and colors, and take a quick live preview of any changes to make sure they're exactly what you're looking for.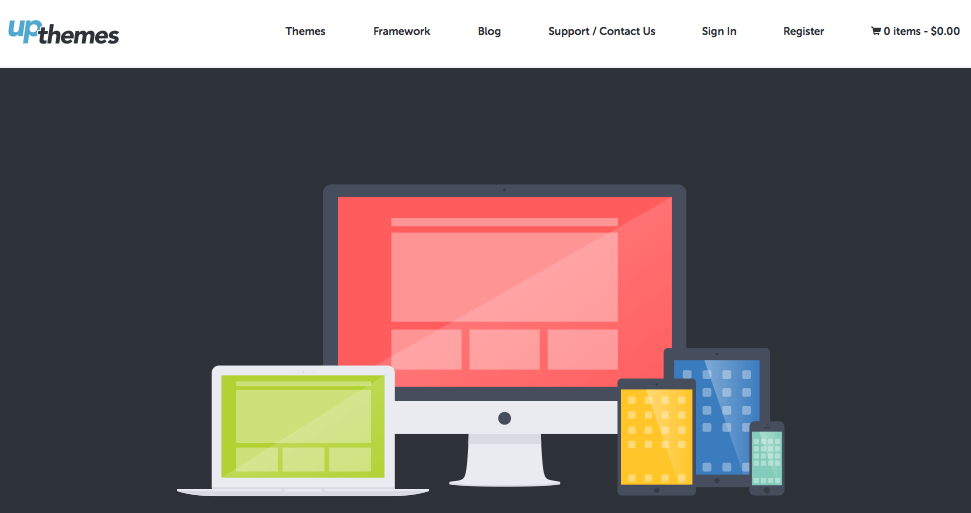 8. Hybrid Core
Hybrid Core is a framework with a designer specific focus. There are no default or starter themes available to use right out of the box, but there is an extensive number of customizable options available for you to create your own themes.

9. PageLines
PageLines is a popular "drag and drop" premium framework that makes it easy for users who want to stay as far away from the code as possible to create custom themes for their sites.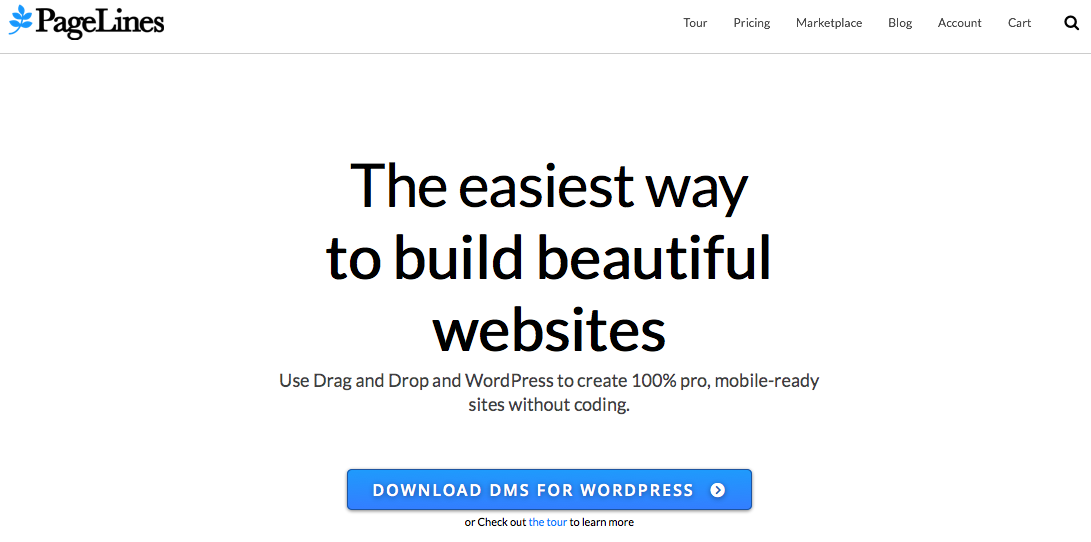 10.  Atahualpa
Sometimes the line between a theme framework and a highly customizable theme gets a bit blurred; Atahualpa is a fine example of this. While Atahualpa is, strictly speaking, a customizable theme and not a theme framework, the number of options available to you make it almost feel like a framework.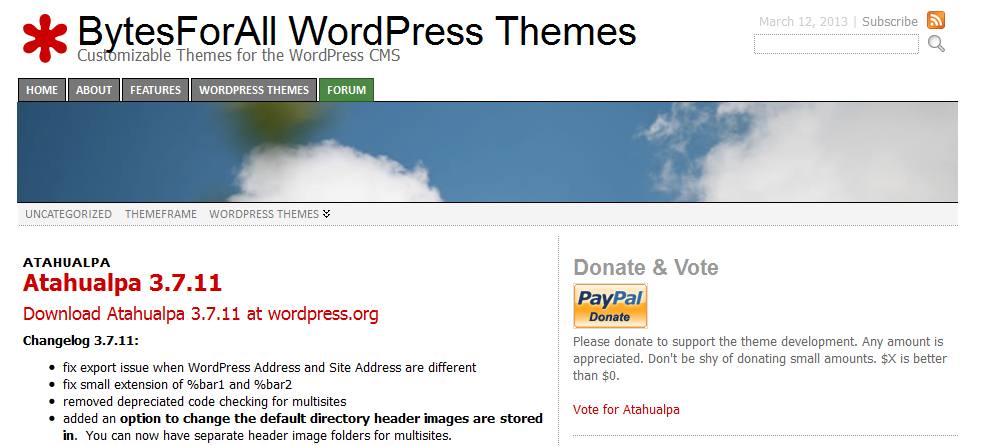 If you're looking to make a custom look for your WordPress site, make sure to check out the theme frameworks listed above.
Need Help?
If your website needs a makeover, or you are just getting started, I can help you create the perfect look for your book or business.
Contact Online Promotion Success
Share this article with these Tweetables:
• 10 rockin' WordPress themes – Click to Tweet
• Looking for a better theme for WordPress? – Click to Tweet
• @SusanGilbert gives you 10 great WordPress themes for 2014 – Click to Tweet