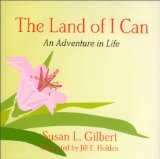 What we know in our hearts we should do, and what we actually live in this hectic, demanding, sometimes overwhelming society, is often different. Sometimes just coping seems to be impossible.
The Land of I Can, is a lavishly packaged gift book that you will buy first for yourself, and then for all of your friends. It will reveal the simple truths that take us from the dark places in our souls to the brightness of THE LAND OF I CAN.
Let us inspire you to access and utilize your inner strength for a better, more satisfying life.   Start with yourself today.
Available on Amazon

Here's what people are saying about The Land of I Can
"I am thrilled to have your treasure of a book … You are the real deal, and I am glad to be walking the same path with you!"
~Jack Canfield, Co-Author, Chicken Soup for the Soul' Series®
"The Land of I Can is an inspirational book from one heart that is a guide to life."
~ Judith Orloff, M.D., author of Dr. Judith Orloff's Guide to Intuitive Healing
"If you have difficulty knowing what you really want, reading The Land of I Can will make your next step clear with a 5-minute plan for attacking procrastination."
~ Mark Victor Hansen, Co-creator, #1 New York Times best-selling series Chicken Soup for the Soul®    Co-author, The One Minute Millionaire
"I was inspired by the heartfelt message held in this beautiful book.  May all who read it feel the same and in doing so, live life more fully."
~Harold H. Bloomfield, M.D., author of Making Peace with your Past
"The Land of I Can is a powerful little book that can change your life with an 'I Can' attitude!"
~ Robert G. Allen, New York Times bestselling author of Creating Wealth, Multiple Streams of Income, and with Mark Victor Hansen, The One Minute Millionaire
"Susan Gilbert has found a way to bring peace, hope, and joy into the world in a uniquely profound way.  This book can open hearts and change the world."
~Mark LeBlanc, CEO, Small Business Success
"How many books have I read and said to myself something like: 'Wow – this book is a real eye opener.' But now if you ask me what the book did for my life or what the book was about, I can't tell you. These books I have read only once.
On the other hand, I have probably read The Land of I Can ten times. And I will read it again many more times. The pictures go very well with the text.
What struck me most was the page: "Ask yourself WHAT? Not How? Not When? Just WHAT?" After talking to the author, I realized I have usually been in "The Land of Fear." Instead of focusing on taking one small step, I get all caught up in worrying about how and when.
Being a complicationist, this books really appeals to me. Susan Gilbert has simplified her message so much that it strikes you in the face, it makes you ask yourself: "Okay, so I've heard this before, but am I doing it? Do I really believe this? What am I doing about my dream?"
This book may well become the bible of the human potential movement."
~ George Goddard