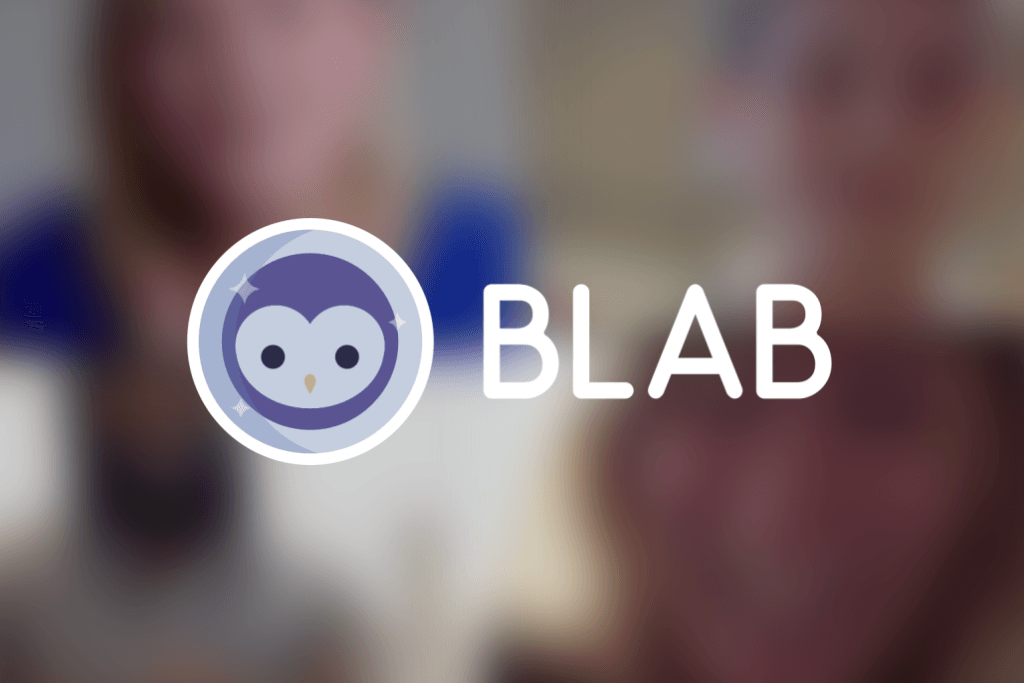 I was recently invited by Richard Krawczyk to participate in a podcast/interview with him on Blab. While I was honored by the invitation and wanted to do the interview, there was a slight feeling of dread when I found out it wouldn't be done on Skype or by phone.
You see, I hadn't yet used Blab.
What I had used for live video interviews is Google Hangouts, and just the thought of another similar experience from the past made me queasy.  One of my team members said it best when he quipped, "Honestly, Google Hangouts only works if you have super fast internet speed. I think these Google Engineers who live in Mountain View have no idea how the real world internet speed is and not everyone has a fiber optic internet connection like they do. They made it for the super fast connection while 75% has the slowest internet connection.  My point is that Google Hangout video version lacks simplicity comparing with all the new broadcasting apps that have come up lately. You need to be an absolute geek and the application takes up too much of your internet bandwidth."  My experience exactly!  Which is why the feeling of dread had surfaced.  I love where I live in rural Washington; but, I have the slowest DSL on the planet with no cable or high speed options available to me.  Frustrating to say the least given the industry I am in!
My hope in agreeing to the interview on Blab was that this experience would be different (fingers crossed) and Oh My Yes! It was as easy as 1-2-3.
Simple – All you need is a Twitter account for the interview.

Works with Slow DSL – Check.
Fun – Yes, indeed.
What is Blab?
Blab is a video streaming app – which is the hottest new app category.  This free iOS video messaging app allows you to see and communicate with ease.  You can connect with your iPhone, or do as I did with my Mac Book Pro that has a built-in camera and microphone.  It worked great using the Chrome browser.
Not necessarily an original idea (there is Snapchat, Instagram, Vine and now Periscope), Blab is amazingly versatile and easy.  When using your phone to create a Blab, you must sign up to message your contacts, but they don't have to be members of the Blab to see your message. If they're not signed up (or Android owners and can't yet sign up), they'll just receive a link to the private clip via text message.
Where it gets really interesting is when this real, bleeding-edge video chat action joins Twitter and supports up to four people who can video chat simultaneously as an unlimited audience watches, comments and can instantly switch places with one of the four video chatters.  It's like your very own version of the Brady Bunch when you see the four squares of faces!  Remember, I said Blab was fun.
Blab Profile
When you connect Blab and Twitter, Blab automatically pulls in your Twitter profile description – and, similar to Twitter, you begin to build Followers and Following: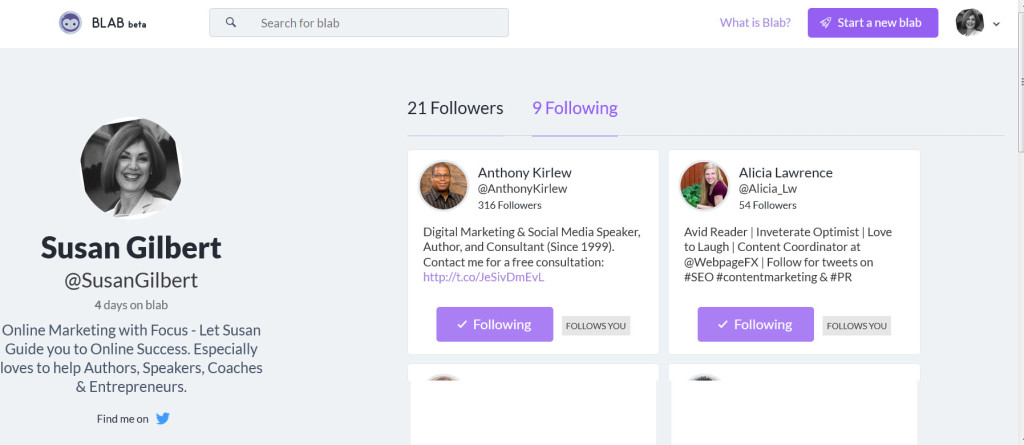 Low Tech
Most of my clients are not geeks, and fall into the low tech category.  When I suggest that they do podcasts or videos, they don't just feel a sense of dread – they go running to the hills!  Blab is going to see an influx of people who have shied away from using conversational style marketing in the past.
In addition to being easy, fun and works well despite slow connectivity, there are lots of features that increase engagement.
Similar to Periscope, Blab has the ability to like someone's video chat box with what Blab calls "feels," which are represented by the familiar "praise" emoji of two hands raised in the air. When you "feel" someone, that person accumulates a larger number of "feels," thus giving new viewers a sense of who the most popular of the four chatters might be and gives us the ability to interact in more that text.
Didn't make the live event?  No problem.
Within minutes, the host receives an email that has the raw video and audio files.  How cool is that?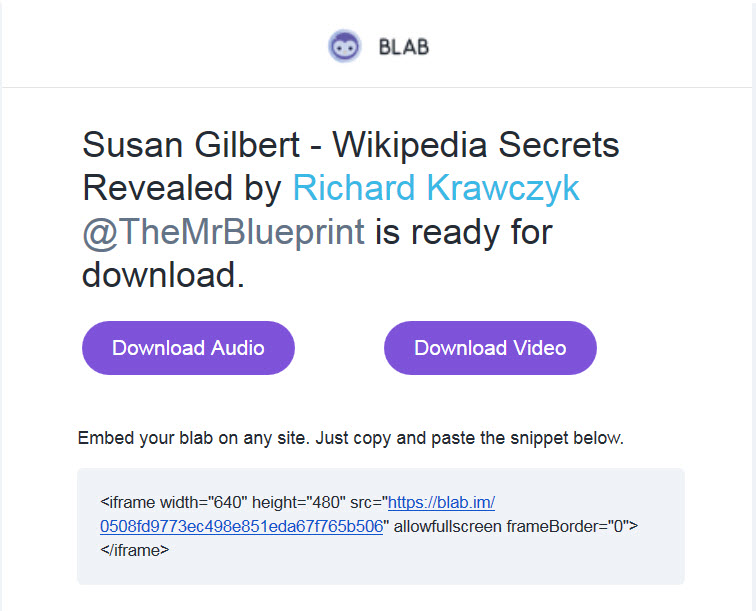 I've used that embed code here:

A great use for the audio portion would be a great as an iTune podcast reaching another audience group or the recently announced Google Podcast at Play Music Podcasts. Both the platforms can bring social engagement and your content can reach out to wider audience.
The link that was used to invite people to the Blab chat becomes a link to the live video within minutes of the ending.  When I posted that link, contacts of mine who had not attended, were able to watch:  https://blab.im/richard-krawczyk-susan-gilbert-wikipedia-secrets-revealed .
After one person watched the replay, she contacted me to say, "Susan I watched your blab interview. Learned a lot.  Great job.  The technology has come a long way. Nice clear no vibration or echo connection."
Yes, we've come a long way baby.
I'm going to use Blab and recommend it to my clients.
If you have a Blab experience, I'd love to hear about it!