Branding Results via Klout Lists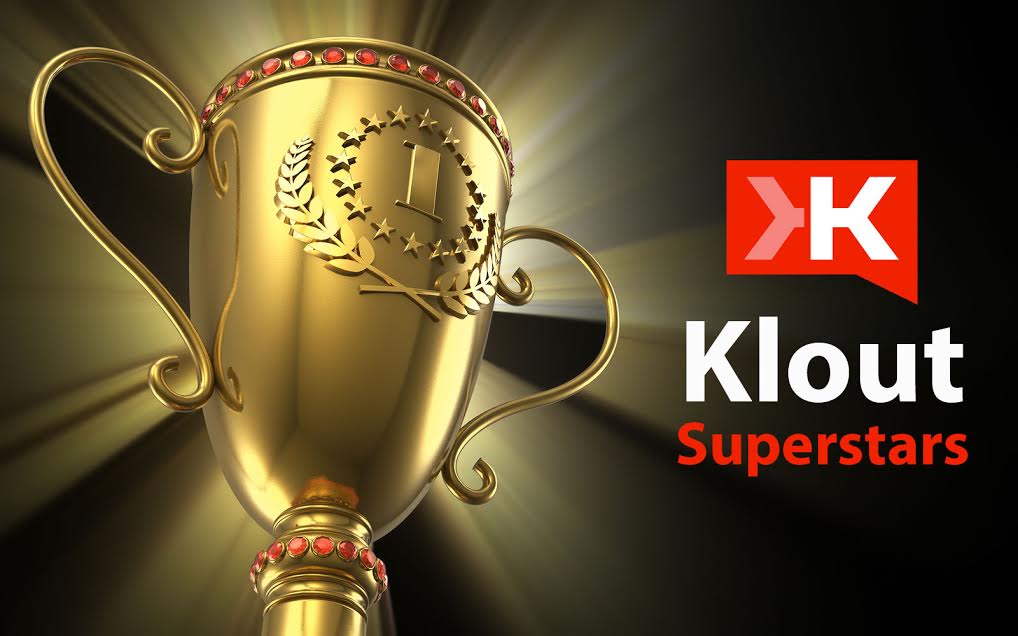 The results are in…..
A week ago today I published an article about creating my own 2014 Top Social Media Influencers – the Klout Aces – list on Klout along with instructions on how to create your own lists.  Before I get into what happened as a result, a little background on how the idea came about…
I write a weekly article for a blog on personal branding.  After completing an article on how to increase brand loyalty through giving, I thought, "How can I implement this in my own business" and take it from what I believe is true to implementation?
When I had written these words, I had not yet experienced the truth in them:
"When your brand gives back to your community a new and deeper level of connection is created."
Creating my own 2014 Social Media Klout Aces List that included people in my community was my way of honoring and thanking the individuals with whom I communicate with and respect.  All I can say is WOW! – it works!
My Results and What I learned
The individuals named on the list felt honored; and as a result, I have solidified even stronger bonds with them.
Their tweets and posts about the list brought in new people to my sphere of influence.
The experience increased the strength of my connections with conversations and gratitude.
I discovered I was connected with some on Facebook, others on Twitter, and not all on both which I have changed now so I have more conversatons with them.
I found out who the people were who I had missed (oops).
The conversations are continuing long after that day.
One of my colleagues wrote a new book review on my Klout ebook – gotta love that!
What Viral Looks Like
Hours after the blog post went live, here is what the social sharing looked like: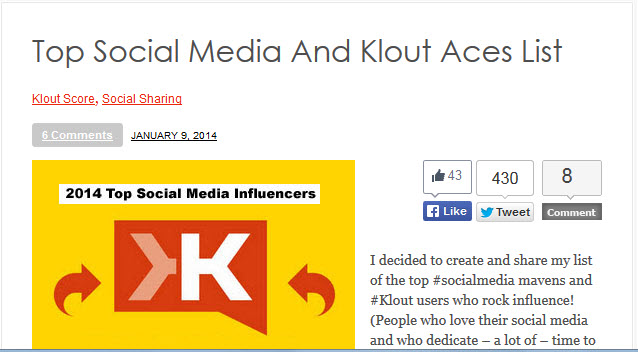 As of the writing of this post, it showed 110 Likes, 964 Tweets and 27 Comments << Click to view Current
On Facebook, hours after posting – over 127 Likes, 8 Shares and 50 comments: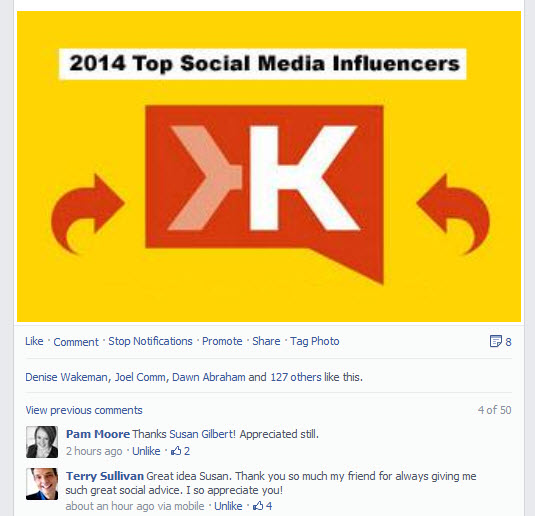 As of today, that Facebook post has over 255 Likes, 18 Shares and 100 Comments.
Klout Superstars
I knew I would miss some people on my Social Media List and asked people to contact me if I had erroneously left off individuals who are influential.  I went one step further and created a new list – Klout Superstars (just click on the link to see).
This new list is broader and larger in that it covers people in many industries – not just social media.  They are people who I already connect with; or, people who I want to connect with more in 2014.  It is an organic list that will grow as the year unfolds and my connections increase.
Remember – We are all publishers online.
How can you use lists to honor the people in your industry while aligning yourself stronger with peers and making new contacts?  While I am a proponent of Klout lists, your list can be created by whatever criteria you choose – just make sure you are authentic and come from a place of integrity and gratitude.
Share this article with these Tweetables:
• How giving back to your community works! – Click to Tweet
• New Klout list is eye opening for branding – Click to Tweet
• @SusanGilbert shares her latest experience through Klout lists – Click to Tweet