How to Set Up a Professional Email Signature in Gmail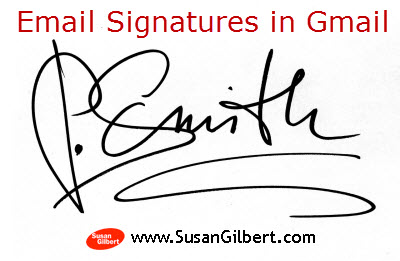 Is anyone reading your business emails lately?
I sure hope so.
Perhaps then it's time to take a look at the email signature going out on your correspondence to your customers and leads. It's a golden opportunity to connect deeper.
Many of us receive hundreds of emails each day, and according to a study by Varonis a quarter of us can receive up to 500 each day! It's important to create a signature for all those emails that is not only professional, but clearly shows your recipients how to find your business and why they would want to do so.
A stand-out design for an email signature should include several things:
1. Your logo – It's important to clearly display your company's logo, which should be directly from your website.
2. Simple yet professional – You don't want to create something that is over the top or too much information. Stay focused on what's important and keep links to a minimum.
3. Design for all devices – Keep in mind that your emails are being read on both computers and mobile devices. Your signature should be easy to read on smaller screens.
Things to Avoid in your Email Signature
Avoid #1 – How many of you have received an email with a signature that was as long as the content in the email?  You know what I'm talking about – complete overkill.
Avoid #2 – Email signatures that have images attached that take forever to download and clog up your reply email?
Email Signature Examples
This is a text base only email signature that a client of mine created: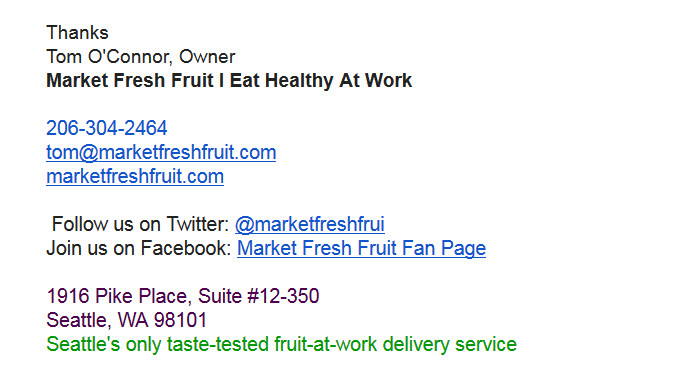 It's to the point including his USP (unique selling proposition) of the only taste-tested fruit delivery service.
Here is an example of a client's email signature that we created using the process listed below: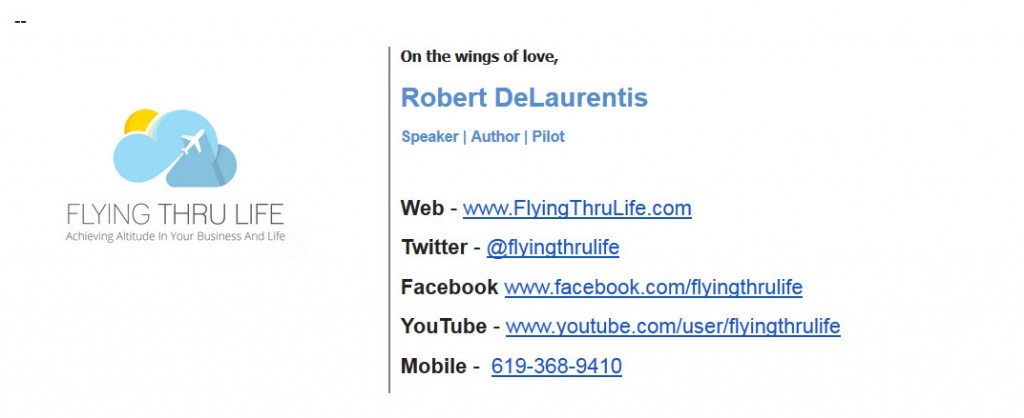 This signature includes his logo, but because we linked the image (not attached it) it doesn't leave the trailing attachments mentioned above in Avoid #2.
Getting Started on Your Email Signature
Keep the look of your email signature consistent with the font used in your website and business cards (whether serif or sans serif), and keep the point size to a maximum of 12 points. Remember, this will be a branded image that is sent out to your recipients, and should be consistent with your other online properties.
It's simple to create a professional template with the use of a word processor like Microsoft Word. If you prefer Google Docs, then that is a similar process. The following are setup tips that can be used inside of Gmail:
• Create a new document – In this example, I have started a new project in Microsoft Word. Next, insert a two-column table like this one: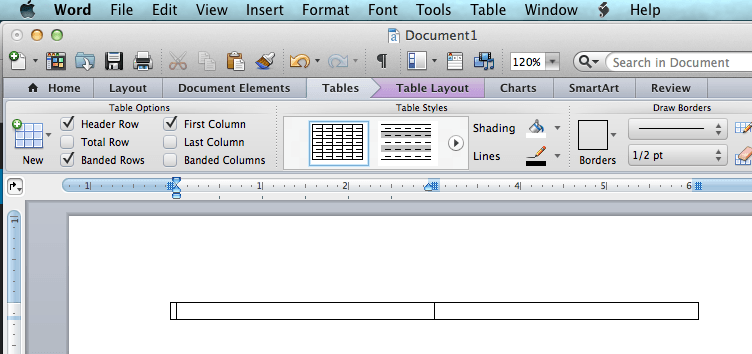 • Enter your signature – In the right column, create your personalized email signature. Keep this clean and simple, with a quick and easy way to contact you. Here's an example of what I have created here: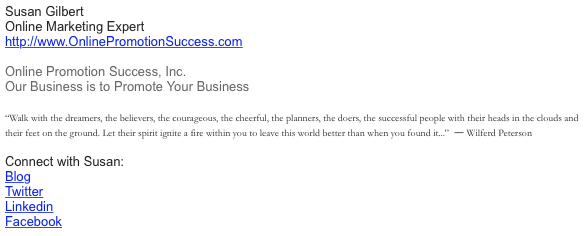 If you would like to add a logo to your signature, simply right click on your table and select Table Properties and click on the Table Tab then Borders and Shading at the bottom to add a dividing line in between: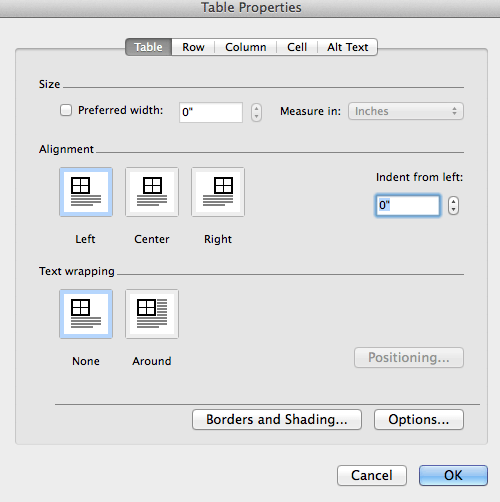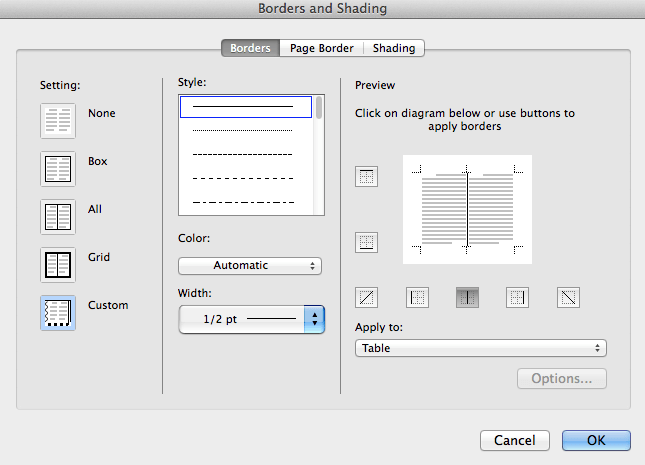 Here's an example of how this might look before the logo is in place, which will be done in Gmail: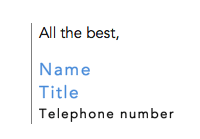 • Copy your signature – Use the Control C command on your keyboard after highlighting your new signature. You will want to go directly into your Gmail settings next, and select signature: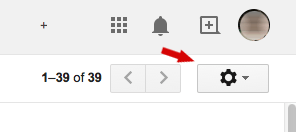 • Edit your email signature in Gmail – Go to the General Tab in settings and scroll down to the Signature area and use the Control V command on your keyboard to paste in your template:

It's easy to edit your information, change the font, font size, color, ect. On the left hand side click in the box and go directly to your website to insert your professional logo. This can be done with a right click on the image and copying the image location: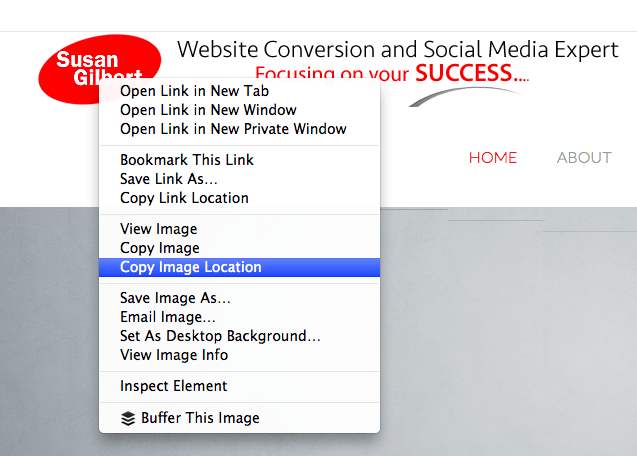 Go back to the editing box in Signature in Gmail, and select the image icon, and paste your image link there. You can click and drag the points to resize once it is in place: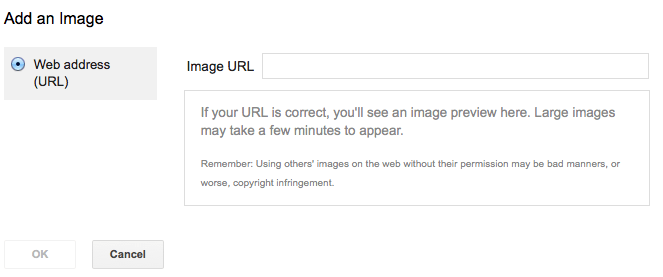 Once your new email signature is just the way you would like it to appear after editing, select Save Changes at the bottom and send out a test email to see how this looks.
You may also want to check this short video;
7 Don'ts While Creating an Email Signature
A professional presentation online doesn't stop with your website and social media.  Keep it going in your correspondence as well. When your contacts can easily see where they can find you, a response is much more likely – especially when your signature is simple and easy to understand. Think of this like any your letterhead or business card, which represents the branded image and message for your company.