How to Take Advantage of the Latest Content Marketing Techniques in the New Year
What you do today can improve all your tomorrows.
~ Ralph Marston
How effective has your content marketing been over the last year?
Would you like to create significant growth for your business in 2016?
According to a study by Content Marketing Institute only 44 percent of B2B marketers know about the success of their content strategy while 55 percent don't know. In order to reach a larger audience your business needs to have an understanding of the latest trends along with a well laid-out plan of action.
In today's online marketing realm social media, search engine marketing, and blogging all work together to bring about more leads and sales, especially when your content is presented in an authentic, meaningful way. Original articles that meet your target market's needs are just the beginning to the process, which now involves the right connections.
Next year your business needs to be prepared for more changes in a people-driven environment. Social media will still be a dominant factor according to CMI: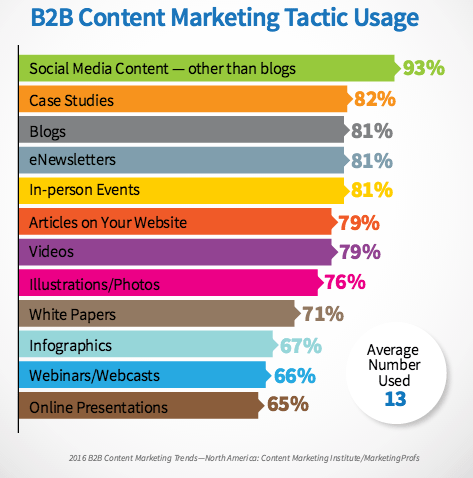 Aggregated content will continue to rise as trending topics are tracked and placed into collections as seen in the newest roll-out by Twitter, Twitter Lightning, which displays the most popular moments:
Readers are skipping unremarkable content more and more, especially as people gather information from their mobile devices. The good news is your business can stand out from the rest with exceptional, quality content that reaches your audience on their level. When done right your content marketing strategy can produce winning results. Here are several ways to prepare for the upcoming year:
Create a mix of useful content
An active blog is essential to growth of your business, but only producing articles will not help you reach your fullest potential of leads. Your business should also be including informational or storytelling videos, infographics with actionable tips, live streaming events or webinars, free reports, eBooks, ect. When your content is easy to share this will enable your message to be spread even further, especially on places like Facebook and YouTube. Throughout the year don't hesitate to host a giveaway or provide high value information for free, as this will encourage your community to want to know more and spread the word on your business.
Focus on building relationships, not sales
Invest in social media management software as well as blog comment tracking in order to be interested and active with your audience. By answering questions, addressing issues, and hosting social media events such as live streaming on Periscope you can build a trusted community who are interested in your content. LinkedIn can be especially overlooked, and according to an article on Honigman Media, this can be a place to meet your community in a remarkable way, as pointed out by marketing expert, Rebekah Radice, who suggests cross promotion on this growing social network. "Whether it's networking, recruiting or schmoozing that brings you to LinkedIn, content is the connector that will create those opportunities for you," Radice states.
Use long-form content to adapt to search queries
Algorithms have adapted to the way people search for the answers they are looking for, which is in large part influenced by social media conversations. Mobile users are using technology from Siri and Cortana to quickly find information in addition to long-tail search queries on Google, Facebook, Pinterest, ect. This means that users no longer need to rely on clicking a website link to get the answer that they need as done in previous years, which will require content writers to meet the complex requirements of topics too difficult for these types of search queries to answer. Search engine optimization will still play an important role, which helps to improve ranking and visibility.
Invest in advertising on social media
Over the last year Twitter, Facebook, Instagram, and Pinterest have been working toward wider offerings for brands and business to create ads that directly reach a larger number of prospects on their platforms. This will become increasingly popular over the coming months, which will soon bring a Buyable Pins to Pinterest. Targeted ads that blend in with the social platform work best as well as an enticing offer.
Spice up your email marketing
Create a separate landing page with interesting or helpful tips and free offers to your subscribers. Use professional images, videos, and messages that will encourage them to spread the word and want to come back for more. This could include exclusive access to programs, webinars, a free eBook, ect. Use this strategy as an "insiders only" access tool, and watch your leads grow.
Reconnect with your existing customers
If your business has seen a drop in interactions and growth online this could be a sign that your customer service has fallen behind. Pay attention to comments and feedback on social media and in your blog, and respond quickly to requests. Most feedback is done on places like Facebook, Twitter, Instagram, YouTube, ect. and when this is ignored chances are these customers will flock to the brands who are quick to respond.
Track your KPIs (key performance indicators)
Depending on your niche your business will experience varying results or ROI on your content marketing strategy. The key is the track your monthly progress such as the number of website subscribers, how many clicks and/or downloads were made, social sharing statistics, the bounce rate or number of visitors leaving your website, the amount of time a visitor is on a page on your website, links from other websites, ect. By using Google Analytics, which is free, you can also track performance and revenue from multiple sources.
As your business establishes its brand online you should be utilizing multiple methods to spread the word on your content. Keep in mind that mobile and interactive content are on the rise, with an increasing demand in information that solves complex problems. Video and images that speak to your community will especially continue to be an important element to leads and growth, as well as a paid advertising program.