Will Your Home Page Pass the 3 Second Test?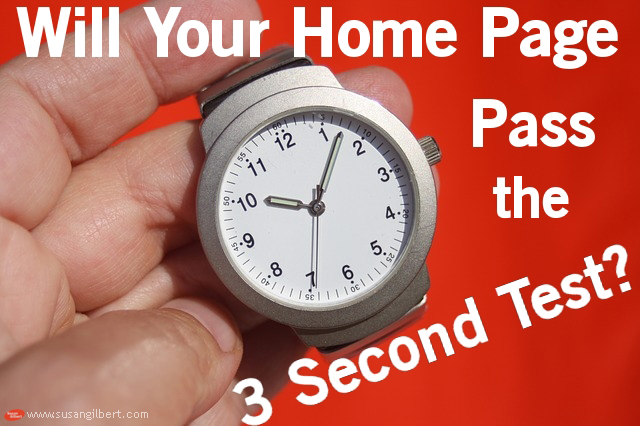 Other than when you send visitors to certain landing pages, or they click through to read a specific article or blog post – they are going to land on your Home Page. Making your home page stand out is imperative. You only have a few seconds, at the most, to hook your visitor. The page needs to be reflective of your vision, mission and goals, but present them in such a way that your audience feels as if this page is just for them.
The awesome thing about WordPress is that no matter what theme you select you can customize and adjust the theme and the home page to better fit what you need and what your audience wants. What your home page looks like will depend on two factors; your audience and your point of having a webpage. If your point of having a webpage is to sell products, then that should be the main focus of your home page. If your point of having a webpage is to educate, then content will be the focus of your home page.
The standard theme may have many elements on the home page such as sidebars, headers, footers, logos, and taglines. Advertising elements may even be native on your home page depending upon the theme that you choose. With WordPress, most of this is customizable right inside your theme, especially if you choose a good, quality theme. The thing you most want on your home page is for it to be clear and tell your story while being fully actionable.
7 Best Ways of Making Your Home Page Stand Out
Your Business Name & Tagline – This may include using a logo of some sort or a header, but the name should be someplace on your home page. No longer do you have to put it right at the top, many different themes have different arrangements of great home pages with different layouts with that information showing.
A Differentiator – You have about 2 or 3 seconds to draw your visitor in to read your content and look at your product. That means if your website is product focused it should be pictured above the fold right where people will look for it. If your website is mostly about content, then that should be apparent right from first load. Maybe your home page has a video introduction, or slide show that tells your product's story.
User-Friendly Navigation – Don't overwhelm site visitors with too many choices on your home page. Give them enough navigation choices so they can easily find their way around your site, but make it simple and straightforward. Your primary menu should be easy to understand and lead your visitor right where they need to be. With custom menu options inside WordPress, you can easily create menus using main pages, categories, or even links to your other websites.
A Unified Look & Feel – It's easy to do with WordPress themes, but since you get to add in your own logos, images and other graphics; be sure that they match and tie together and do not distract from your main point. You can also use fonts to tie everything together, along with graphics and color. In fact, your entire home page can be void of graphics all together with use of specialized fonts.
Social Media Links – Your home page should give your visitors another way to connect with you via social media links. Whatever social media you're part of should be front and center allowing you to capture your audience's information for future connections, a great use of secondary menus.
The Main Point – Front and center, above the fold should be the main point on your home page. If your main point is content, then users should easily be able to read or click to read the content you want to share. If the main point is a product, that product needs to be above the fold, instead of content on your home page. It's okay with WordPress to have essentially a static home page, and another menu item then becomes the blog page.
Informative Footer — Don't discount the importance of a good footer on the home page. People get upset if they cannot find out how to contact you, get help, or otherwise connect with you. The menu items are fine, but it's wise to have your address, phone number and other important information visible in the footer.
Your ability to have all these things and more on your home page is not limited in any way by using WordPress to build your website, whether product focused on content focused. WordPress can revolutionize your business in so many ways.
Wrapping It Up
We've gone over a lot of information in the four blog posts about how you can customize your WordPress for better audience engagement and more sales. If you implement the factors mentioned and use what you learned to make your WordPress work for your audience, product, and niche, you will increase your sales exponentially.
Feeling overwhelmed?
We can help.  We convert websites to WordPress, create new websites with WordPress and make updates to websites where needed.  Our new installations also include Training Videos within the Dashboard to help you use your new WordPress website.
Share this article with these Tweetables:
• 7 ways to make your home page stand out – Click to Tweet
• Make your home page 'pop' with these 7 tips! – Click to Tweet
• Are visitors passing by your home page? – Click to Tweet
• @SusanGilbert gives you 7 steps on how to make your home page stand out – Click to Tweet