Big Upgrade For Businesses on Pinterest
"To Upgrade or Not to Upgrade?"
That was the question I asked myself when Pinterest inquired whether I wanted to switch to a business account saying:
"Get the all-new analytics
Switch to a business account to see how Pins from your profile and website are doing. (You won't lose any of your existing Pins or boards!)"
I did, and this is why you should too!
Would you like to see more details and analytics for your Pinterest account?
A recent upgrade has allowed businesses to transform their profiles into data machines, while maintaining the same look and feel of their current boards. Businesses can new obtain more in-depth information about their pins such as shares, comments, and likes. Geographical data has also been added along with more insight into what followers are looking for on Pinterest and other social networks.
As a social network expands it is important for brands and businesses to know how their accounts are performing. With the existing Pinterest for Business suite, the social sharing platform introduces a much more powerful analytics tool for better engagement and growth.
Getting started with the upgraded business platform on Pinterest is simple, and begins with an invitation to join for free:

Once you decide to switch, Pinterest will take you to this page: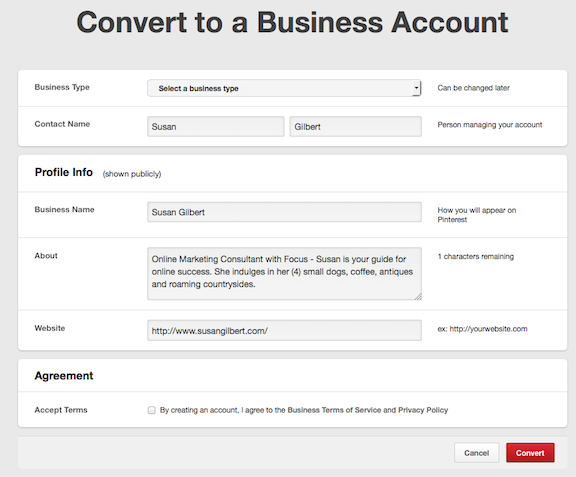 It's important to select the right category for your business, and select Accept Terms below to get started. Pinterest uses the same information on your profile, and so this is also a good time to update anything here. After converting you are taken to your profile page with an opportunity to add a Pin button to your website and announce your new upgrade: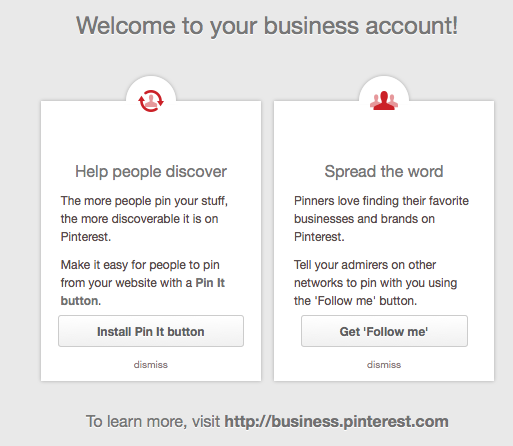 It's simple to install the Pin-It button after clicking the button. Pinterest takes you to this customization page: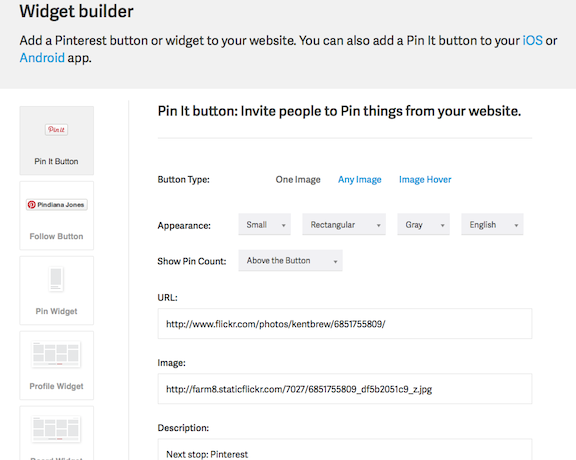 Now your new profile is restored and ready to go with better analytics: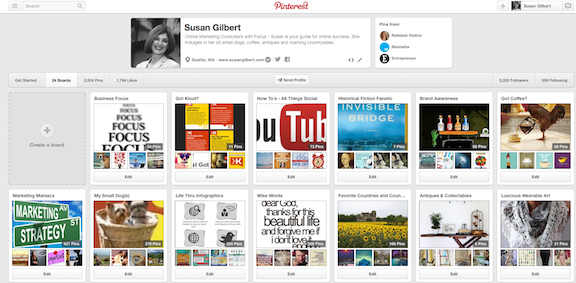 Just go to the analytics page to view your statics with several options available on the top tabs: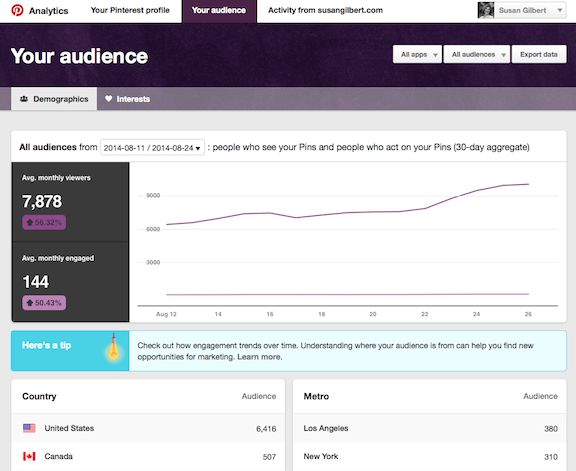 As you will see the dashboard is intended to give users a quick overview of their profile's performance on Pinterest. This will includes views and trends as well as insights on the interactions for your pins. This information in particular provides businesses a content measurement tool that is invaluable to their overall marketing strategy.
With the new analytics upgrade for business accounts on Pinterest users have the ability to see exactly how well their marketing is going, and allows for a better perspective on your target audience. There are many success stories already that were made during the beta release, which is great news for brands needing more exposure online.
Share this article with these Tweetables:
• Better analytics for businesses now available on Pinterest – Click to Tweet
• Take advantage of the new analytics upgrade on Pinterest – Click to Tweet
• Need better insights on Pinterest? Here's how: – Click to Tweet
• @SusanGilbert shows you how to upgrade your business profile on Pinterest – Click to Tweet