Get Your Message Out With Podcasting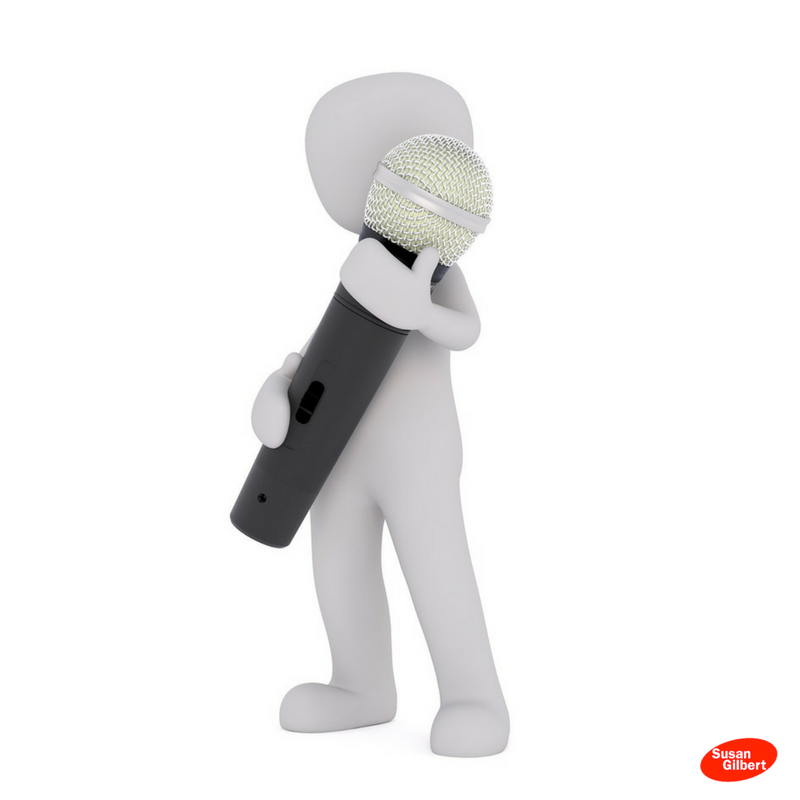 Are you ready to move beyond your blog?
Podcasting may be the next step in building your personal brand and is still a growing medium when it comes to attracting an interested audience.
It can seem impossible to fully reach your target market with just content, social media marketing, and advertising — but the truth is you have a message that needs to get out there and both audio and video can help you do this faster. If you want to establish yourself as a leading authority in your industry or as an author you should strongly consider hosting your own show or at least being a part of one.
The first thing to understand is that your podcast needs to stand out from the rest and become uniquely your own. Just about any industry  online can do this including:
Business bloggers
Online trainers
Membership websites
Coaches or consultants
Authors
These are just a few examples of niche markets who can be taking advantage of producing a regular program that speaks directly to the needs of the community. This may require more of an investment of time on your part, but the payoff is great as you launch into a new arena that can propel your business or book(s) forward.
The number of podcast watchers and listeners is expanding according to a report by Edison Research featured on Convince and Convert. Their study found that since 2013 the trend has continued to steadily grow, especially with an audience ranging from 12 to 54 with the average person subscribing to 6 shows.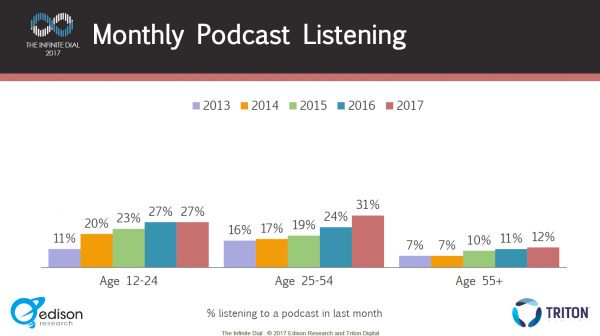 Image courtesy of convinceandconvert.com
Why start a podcast?
If you want to build a trusted brand then it's important to continue to expand your marketing efforts into new digital arenas that your audience is active and engaged in. Today's information age is focused on relationship building — what better way to do this than through your own dedicated channel? And with 46 million listeners each month on just iTunes alone your exposure has the potential to grow far more than just leveraging social media and your blog.
Many people are on the go these days and are getting their information quickly from the mobile devices. Meeting them where they are at is a quick, easy and free way to build an audience online.
There are a variety of ways to present your message either through an audio or video episode. A great way to start is through re-purposing your blog posts that have already garnered your readers' attention.
Create something that either educates, informs, or entertains your audience in a way that encourages them to subscribe for more. When done in a consistent and fresh way you will be able to quickly establish your channel. Here's a great example from Nathan Chan, host of The Foundr Podcast: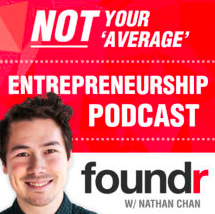 There are many different creative ways to leverage your online presence and establish a memorable brand name that people will know and recognize. And it's not difficult get started in this process — with consistency and dedication you can host a regular show on multiple websites including Spotify, Soundcloud, Stitcher, and more.
The most subscribed-to podcasts are those that present a fresh message that speaks to their audience in an interesting way. Originality is the key, along with putting your own voice into what you produce.
Here are a few suggestions to help you get started:
Create a separate schedule just for podcasts
You already have a regular content and social media plan — this should should be no different for your online broadcasts as well. Choose a specific day and time shot that works well for your work week and stick with that. Use calendar tools that you can send out to your subscribers so that they easily add your shows to their agenda. If that time doesn't work for them not to worry — you can always provide a replay link to them later.
Use a general template
It's not necessary to write on a full-length script, however; you will want to put together an outline or template to follow and customize for each podcast. This includes a general introduction that can be used each time and a list of questions if you are conducting an expert interview. It's important for your audience to know exactly what your episode is about in order to entice them to hit the play button.
Choose a branded profile photo or logo
Once you know what your show is going to be about take the time to choose what you already have established online for your brand and expand on that. A professional head shot is better for places like LinkedIn and your blog, but a fun image can get an audience interested right away. What you choose should be consistent with what you have currently created, yet reflects a podcast style.
Use short, attention-grabbing titles
A long, and drawn out headline can turn people away. You will want to quickly grab their attention with catchy titles that speak directly to their most pressing needs and questions. Examples include, "Keep Your New Years Resolution," "A Better You," or "Holistic Weight Loss."
Include a clear description
Let people know right away what your show is about without writing too much information that will leave them feeling bored. This should be done with the right keywords for each topic, and without reading like a sales message like this example from the Successful Dropout podcast:

Keep your podcast episodes focused
Avoid including too many topics in just one show — this could extend your episode out quite a bit, and many people will lose interest in just 30 minutes. Instead, discuss something inside a specific niche based on your topic, such as the exact type of scholarships to apply to when looking for a business college.
Include a strong call-to-action
There's no shame in encouraging your listeners to check out your website, social media channels or to hit that subscribe button at the end of a podcast. In fact, if you're not doing this then you could be missing out on thousands of new subscribers! This practice has been going on with YouTube channels for years, and is no different for podcasters.
Create a follow-up strategy
At the end of your podcasts be sure to send out an email to your listeners and follow up on any comments posted to your blog and social networks. Before launching your next episode do a live video on Facebook or Instagram to interact and connect with your audience. Younger community members especially love to communicate with brands on a more personal level and so you will want to meet them where they are at beyond your regular podcast.
In a competitive online world you can still stand out above the rest with a unique message. There are plenty of opportunities waiting to be filled with people always on the hunt for new and fresh content to digest. Focus a specific target market and narrow it down as much as possible while maintaining a space in popular spaces like technology, health, fitness, ect.
The realm of podcasting is open to anyone who wants to establish a trusted brand online. In order to forge lasting relationships you will need to build relationships with your community with consistent communication and tweaking of your episodes to best meet their needs. Take advantage of tools that can help you cut out hours of preparation and technical work. Finally, always be thinking about new approaches for your audience and what steps you will need to take in order to continue to grow your channel.