Use Email Automations to Improve Your Online Sales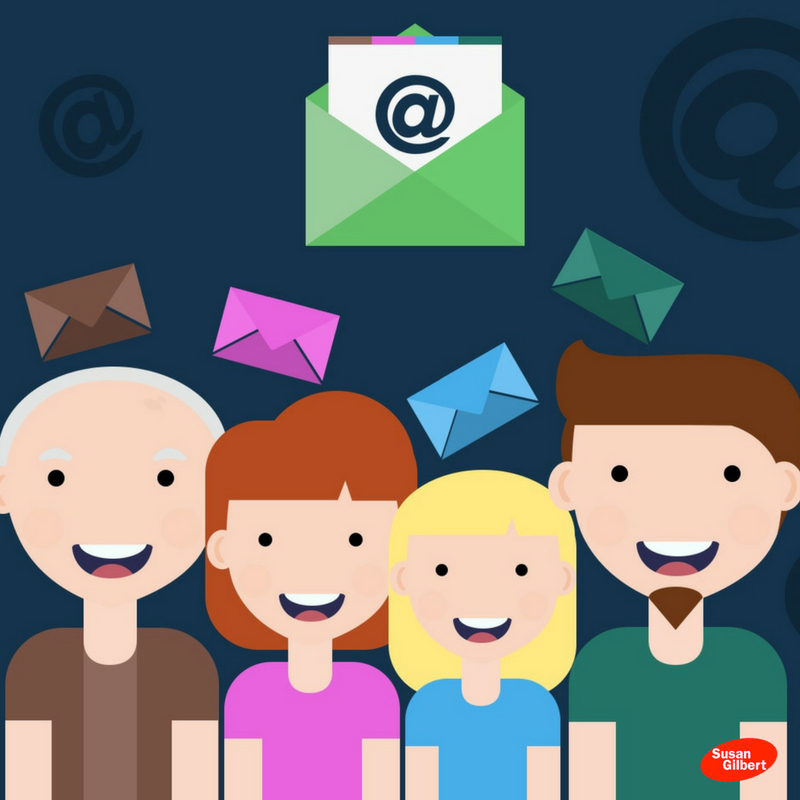 Are you not getting enough responses from your current email campaigns? You might be missing out on sales just because your lists are not segmented to a specific target market.
An email capture and valuable offer should be implemented on any website. But with so many distractions on social media and online ads your potential customers may be passing your automated messages by. In order to capture their attention you need to specifically cater to a particular group of subscribers with remarkable content that they have already expressed interest in.
Through segmented email automations set up in your email campaigns you can achieve better results in your business including:
Reaching targeted subscribers with relevant and effective emails based on the type of links they are clicking
Saving time, building better relationships, and spotlighting what you have to offer
Selecting subscribers and segmenting them into a specific group rather than one generic list
Sending targeted, one-time emails to specific groups
Offering personalized and relevant promotions
According to an article by Mailchimp email campaigns that are segmented achieve much higher results than those that are not: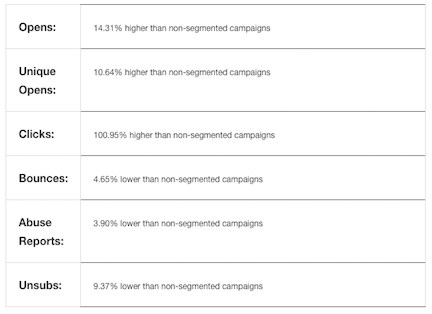 You've worked hard to get traffic to your website — if you can't 'capture' and immediately 'connect' with that visitor again, you will most likely never see or hear from them again. If you provide something of interest and assistance to your visitor, and continue to add value for them with scheduled and automatically setup emails, you are not forgotten.
Do not miss this golden opportunity to change a visitor into a prospect and after gaining their trust, a customer.
Best Practices for Segmenting
Having an autoresponder set up with an email service provider like MailChimp, Aweber, Infusionsoft, ConvertKit, ect. is the first step to nurturing your subscribers. To ensure that you get the most out of your campaigns you should take the following tips into consideration.
1 – Create a specific 'tag' for your lists
If you are offering multiple products or services you will want to generate subscribers for specific campaigns for each and create a 'tag' according to the links they are clicking from your website. For example, with Aweber you can use their Click Automation system to do this, and segment your subscribers according to their interests. Your customers may not be interested in everything you have to offer, and with this method you can send your messages to a very select group.
2 – Offer an incentive
Let your list know that you understand their needs before they opt-in. For example, when a subscriber signs up on your website you can provide them with specific selections to choose from such as how they would like their business to grow in the new year or how many subscribers they currently have on their blog. With these types of 'survey' questions you can provide them with a free eBook, report, tips, ect.
Incentives are also a great way to get your subscribers to open and read your emails, especially when there are free gifts, coupons and discounts that can truly add value to their lives.
3 – Provide a series of emails
In order to better determine which categories your subscribers belong in you can develop an educational series that they can learn from for free. At the end of these automated emails you can create a call-to-action for them to move forward into the next step whether it be a paid course, membership, and so on.
Tip! Present your initial offer in the beginning of your email, then repeat your call to action in the middle and then at the end so that your readers can digest all of the information before making a final decision.
4 – Practice writing good subject lines
This will ensure that your emails get opened more regularly. Use a headline analyzer to test out your readability to make sure your emails are not getting missed. The more generic the headline the less likely your message will be opened and read. It's important to appeal to the reader's emotions right away and provide them a reason to open your email.
5 – Set up follow up emails for each segmented list
Remind your subscribers what they opted into and why. I usually schedule my follow up emails to go out ever second or third day for the first week — with that said you should schedule according to your own emailing agenda. It's important not to send too many messages to your prospects and overwhelm them with information.
6 –  Be specific according to the specific interest
When writing your emails make sure that they tie into the product you offered to get the person onto your list in the first place. That way you can send out related information and tips and then gradually promote related products or services to them. Don't be afraid to ask the reader's opinion or feedback — this can be used later on to nurture your relationships.
Segmenting your subscribers into distinct categories can pay off in higher click rates, which leads to better conversions. As your lists grows each month pay attention to which target markets are showing the most interest so that you will know exactly what your readers desire the most from your business.