1.3K Flares
1.3K Flares
×
How to Choose The Right Media Outlets to Pitch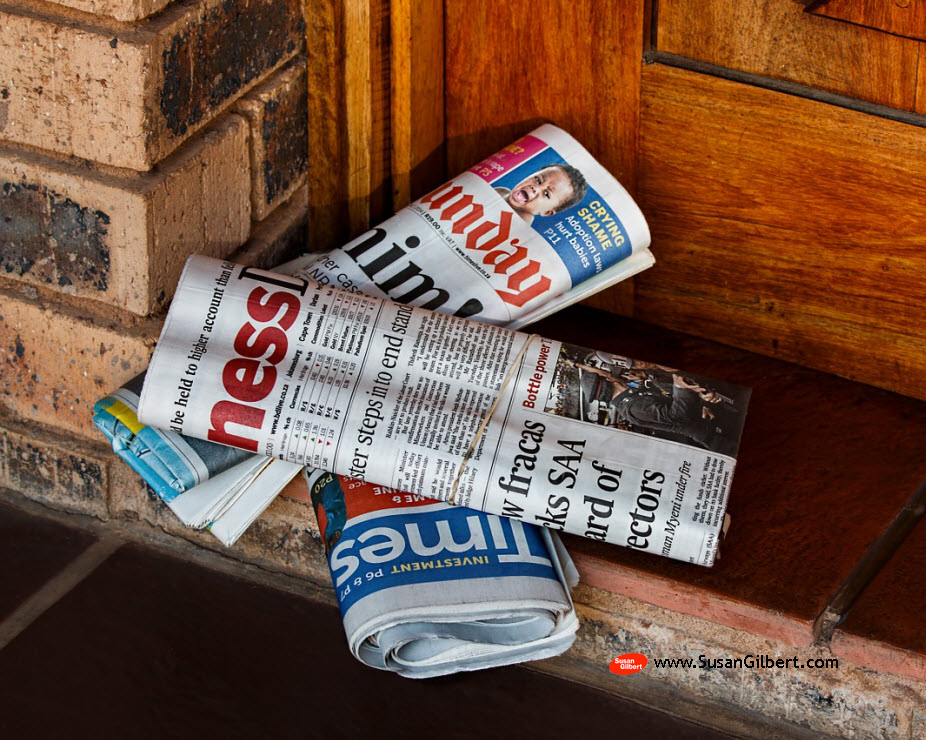 The first step to getting media coverage for your business is choosing the right media outlets. Not every newspaper, major blog or TV station is a good fit to cover your business or product. But if you do the work of selecting the right media outlets, the chances of you getting coverage go up dramatically.
So how do you choose the right media outlets?
There are actually two aspects to this:
You want to choose the right outlet in terms of the topic they write about, and in terms of their position in the media hierarchy.
What this means is that you want to target media outlets that write about a topic that's closely related to your product or business, and initially, you want to target outlets that are lower on the tier in terms of popularity, and will usually be more likely to write about you (Don't worry, though, you're going to use these lower tier outlets to help you get published on larger and larger media outlets like major blogs and news sites. I'll show you how later.)
Example: If your business is a marketing company that helps small businesses get more customers, you obviously want to target media outlets that write about business and marketing topics, or target local news outlets. Targeting websites that write about golf or fitness won't make sense because they probably aren't going to be likely interested in writing about your small business marketing company.
Likewise, The Today Show probably isn't going to be interested in covering a small local business at the outset because they're a major national outlet with a national audience, so you'd be more likely to get a response from reporters who write about issues in your local area.
So how do you find the media outlets that would be most interested in writing about you?
It's easy. We'll just use a handy little tool called Alltop.
Alltop is a blog aggregator that lists all the top blogs online (hence the name).
I'm going to show you how to use it in combination with another free tool to compile a list of blog and media outlets to write about your company or product.
That other free tool is the Scraper Extension for Google Chrome.
You can download Google Chrome here if you don't already have it on your computer. You can just follow the installation instructions on the Chrome website to install it on your computer.
Once you have Google Chrome downloaded and installed on your computer, launch Chrome, and click here to install the Scraper extension.
Once the scraper extension is installed, go to Alltop.com. In the search bar in towards the upper right side of the Alltop home page, type in a term for the niche you want to target (think broad terms, like "business" or "health"). For example purposes, let's do a search for the term "business".
Below, you'll see a snapshot of what Alltop's business section looks like: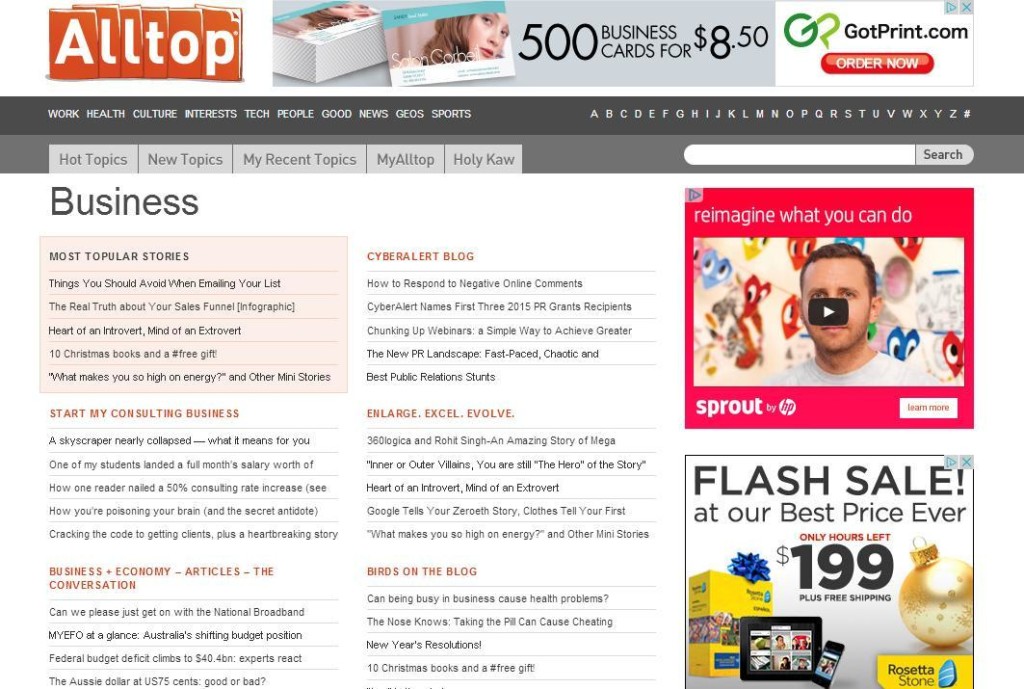 The business section includes blogs from a variety of different websites, including Inc.com, Business.com, Hostgator.com and others (you may also see a few blogs that aren't business blogs. That's ok, just ignore them).
The next step is to right -click on one of the blog section headers, as seen in the screenshot below: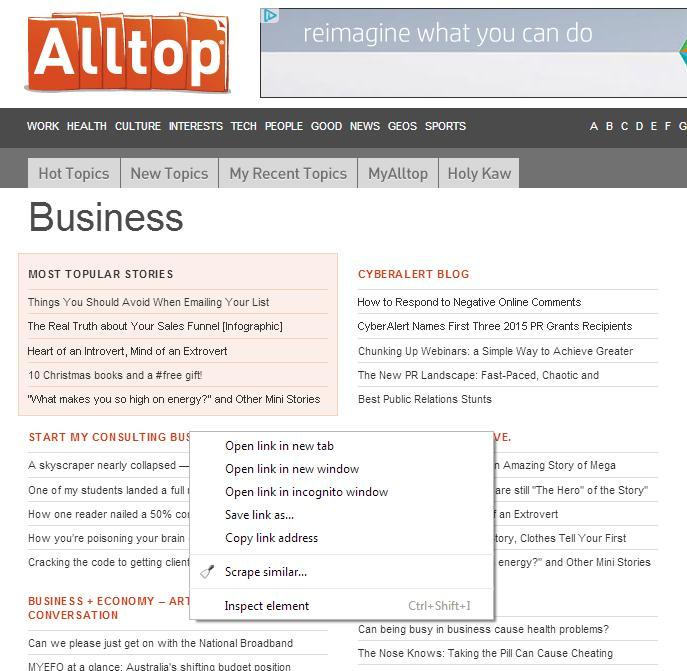 (Right­-click on the orange header text and you'll see a menu box like in the screenshot above)
Select "scrape similar" from the menu.
This will open the scraper tool, which will scrape the list of sites into a list. Next, you want to export the list into a format that's easier to work with. So click the "Export to Google Docs" button near the bottom right of the scraper window.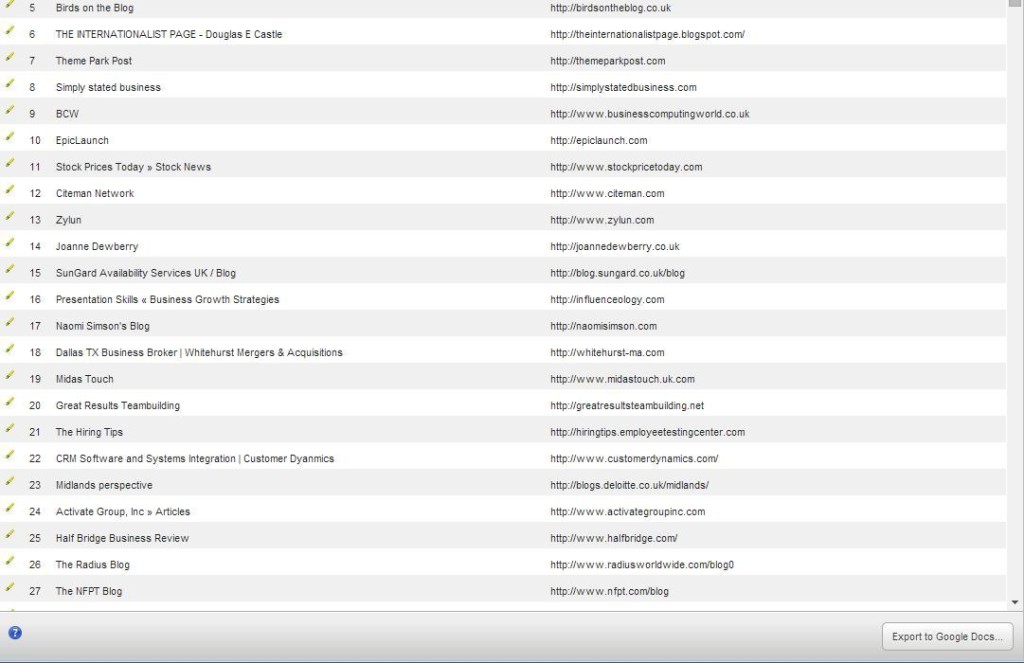 Great!
Now you have a Google Docs spreadsheet with a list of blogs that already reach your target audience. But we're still not done yet.
Now let's use this tool from Customer Developer Labs. Enter the search term you want, and it uses Google News to look for news stories worldwide and in the 10 largest US cities. For example, I'll do a search for SEO: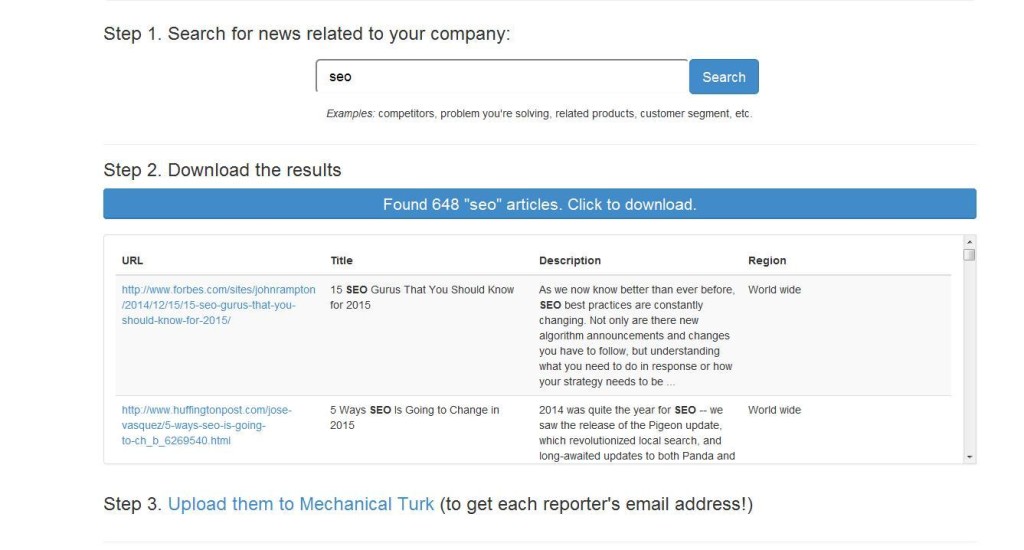 Notice that the search returns 648 articles with the term "SEO", with the top ones being from sites like Forbes and The Huffington Post.
Now you've got a list of hundreds of potential blogs and media sites you can reach out to who might be interested in writing about your business.
But before you reach out them, you need to make sure you've given them a reason to want to write about you.  That's called The Pitch; and I'll go over that in my next post.
Next up in this series;
Media "Hook": Outreach Local Media to Cover Your Business
Your Press Kit