The New Generation of SEO Marketing
Have you abandoned your SEO strategy after being affected by Panda, Penguin and whatever new algorithm was thrown into the mix?
If so, now is the time to include this important element in your business marketing plan, and recognize that SEO is not dead. It's just evolving into a new space.
Just a couple of years ago Google dominated the search scene, but social media and mobile have both emerged as a changing force backed by consumer demand.
According the eMarketer, "US adults are spending 2 hours and 51 minutes a day on nonvoice activities on mobile devices. More than half of that, or 1 hour and 31 minutes, is spent on mobile phones."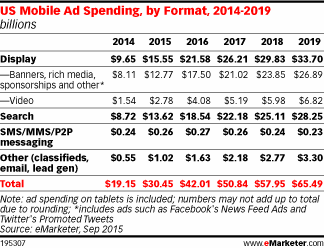 The old formula of optimizing your content for search has now been replaced with keyword phrases, topics, and conversational communication. Much of this activity is seen on mobile today, which is described by marketing expert, Benedict Evans, in an article on Hubspot as "the internet" of today.
While finding the right keywords for your target market are still essential, it's now about focusing on the best phrases that are based on the needs and desires of our prospects. This means that tools such as Google Keyword Planner and SEMrush are still important to include in your marketing research. Your website content data should reveal which topics are the most popular as well as what is generating traffic at the competition's.
Natural, organic phrases and content will continue to grow and dominate content, which makes long-tail keywords vitally important. Instead of the old method of focusing on a few key terms your business will now want to conduct thorough research on who your audience is and what they are looking for. User intent is the dominating factor in search, whether this is on Google or social media.
Content that is relevant to your niche, original, and easily understood without too much text now performs better when it comes to website ranking and visibility. This means you will want to ensure your website is optimized for mobile and includes a responsive theme that looks great on a computer or smart device.
According to a Searchmetrics report in 2015, there are several key components of SEO that businesses should pay attention to this year:
Focus optimization on user devices instead of keywords
Traditionally our websites have included key terms that related to our industry, but now the shift to responsive design has become more important. If your landing page is not easily accessed or read on a mobile device this could depreciate your ranking and subscribers.
Keywords are on the decrease, and many websites no longer include these in their URL or content according to the report. While we still should include these on our pages and posts, they should be relevant to the topic, and spread throughout in a natural, organic way.
We may see an end to backlinks
It used to be important for search engine rankings to have the right backlinks from your website. After Google released their link disavowal tool in 2012, (which can be used to stop 'bad neighborhood' links) links can now be removed and websites even penalized, especially if these have been purchased. This means that a downward trend of the use of backlinks has been steadily growing over the last few years.
Social signals drive organic traffic
While Google does not specifically reference social media affects a search engine ranking the Searchmetrics report found that tweets, Google Plus posts, Facebook posts, ect. had a positive effect on visibility and organic website traffic. Social signals will continue to be an important element to attracting a brand audience as well as gaining new subscribers, as shown in this finding from Shareaholic: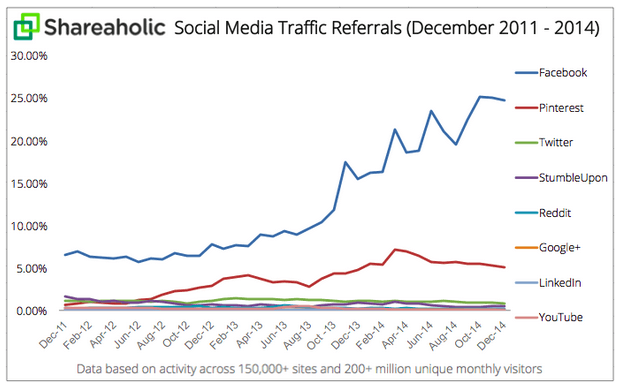 As we move forward into the new year our focus needs to be on the consumer, especially their behavior and desires expressed on social media and mobile. Keywords will continue to be an important reference in your content and on your website, but will no longer weigh heavily on your search engine rankings. A strong social media presence and responsive website design will help your business create more visibility as you produce relevant, original content that meets the needs of your audience.