Facebook Groups & Pages Benefit Work Together

Have you been interacting in any of your professional groups on Facebook lately?
Chances are your social activity has been focused on your business Page. With so many changes taking place on the popular social network one would assume that groups are no longer effective, but this is the one thing that has been a mainstay, and can actually help bring in new Fans.
Think of Facebook groups as your business's back end friend that brings the network's professional contacts to you.
Sounds great, right? It is!
Decide now to become active again, and improve your social media marketing.
Unless you are paying for Facebook advertising it is now more of a challenge to get into the news feed unless you are a large brand like Coca-Cola or Microsoft. Groups, which have been traditionally used for employees, brands, and information exchanges, can still be set up as public or private depending on your preference. And like Pages, you can even add a banner for your company like this one from Wealthy Women Entrepreneurs – with Ingrid Elfver:

Facebook groups are not only a good way to network with other professionals, but also promote content, which can be searched for. Groups that are active will show up in the results much like a Google search. Here is an example of this: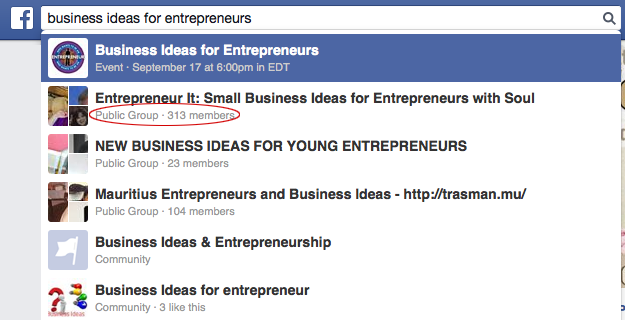 Note that this these public groups are appearing at the top of the search results on Facebook over results for Pages.
Another great way to use Facebook groups is for announcing new products, services, and events. If you have a .pdf document to share you can attach that as well with any links to places like a sales page or your website.
There are several ways your business Page can benefit from an active group whether this is one your business has created or a professional group in your niche that you have joined:
Encourage conversations
If you have several products or services available this is a good place to ask questions and spark a conversation with group members without posting a sales pitch. This is a great way to discover the needs of your community and answer some of their questions. Over time of building a rapport your business will soon be encouraging word-of-mouth marketing through your brand ambassadors.
Reach out for an opinion
Let's say you have a fresh look for your business Page or a new product or service offering being released. Before making the big announcement use the community to bring questions to the table, and you will soon discover that people love to provide their input. Consider this as research done for you as well as a good way to build trusted relationships.
Test out your membership program
Many times brands and businesses will offer paid membership programs. If you are not ready to enter this arena yet for your marketing consider your Facebook community as a place to exchange ideas and information. You will want to keep in mind that Facebook is the actual owner of its communities, and to share your information wisely. After a while you will build interest in what your company has to offer, which can be brought over to a website membership in the future.
Post relevant content to your niche
Take a look at your Facebook profile news feed and you will notice that posts from groups are appearing there more than Pages. Share information that will encourage people to join the conversation, which can eventually lead them to your Page as you nurture those relationships. After a while you can encourage people to sign up for special events, newsletters, and other announcements which can help build your email list.
Cross promote your Facebook Page
One of the benefits of groups is that your brand can post a message or status update with a link to your Page. Facebook also allows for the sharing of other member Pages, which can help build your network and encourage content sharing.
Facebook groups are all about creating conversations and building relationships with members rather than just posting information and content for your brand like on Pages. The longer style of communication encourages networking and growth, and naturally draws Fans to your business or brand. The key is to stay focused and on topic to your niche, and actively participate with the members. Over time this powerful marketing strategy will flow into your other social networks as your business builds more connections.