What is a Landing Page?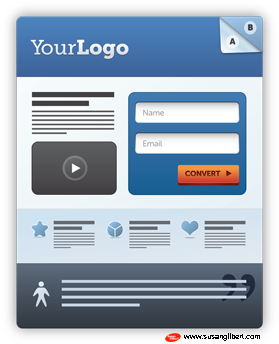 A sales page, sometimes called a landing page, name capture page, launch page, squeeze page or registration page is a way to highlight one particular product, service, event or opportunity designed to sell a product, service or to simply collect leads. These are known as the "money pages" of your website.
Money pages usually have a "buy now", "apply now", "download now" or "register now" or some other "act now" button on the page. These are known as money pages because they are very lucrative ways to increase lead capturing as well as sales.
A professionally designed landing page can improve your conversion rates.
There are several important elements of a successful sales page that you should include.
Attention Grabbing Headlines
When you consider that headlines are read more than the rest of the copy on your page, they are very important. You should create headlines that are unique, specific, urgent and useful. The words and position of your headline are paramount in increasing conversions.
An Opening Promise
You have merely seconds to grab the reader's attention so it's important to start off with a promise that catches their attention and imagination. Don't be boring, long winded, or give away the farm. You want them to be compelled to read more.
The Story You Want to Share
Your story is also why people will want to keep reading and why they will want to opt in or buy what you're selling. If you can weave a story that keeps the reader interested and tells the true story of why you're making this offer to the audience you'll have a winning money page.
Words That Foster Credibility & Builds Rapport
As you are writing your sales page, include words and details that make the reader feel as if they know you, and that they like you, and trust you. If you know your audience well enough, you should know what to say and what words to use that let's them inside your world a little.
Subheadings That Redirect
People lose attention quickly. It's important to include sub headlines to help bring them back into reading the copy. Most people who read online scan from top to bottom instead of left to right as with printed information. Keep that in mind as you build your sales page.
Relevant Images
People are visual by nature, so you want to include some imagery. However, don't let images take over the sales page, but choose images that enhance what you're trying to convey.
Testimonials
By including testimonials you can quell the fears of buyers. This is especially true if you can link to a real person in the testimonial so that the reader can verify the information if they choose to.
Solid Proof of Performance
This can be accomplished with testimonials as well as your own story about how the product or service worked for you. Include details about why you came up with the product or service and how it helped you and others.
Your Offer
Remember that you are selling solutions, not features, and you want your offer to convey the benefits of buying to the reader. You also want to make the offer so good, that it's hard for them to refuse.
Risk Eliminating Language
Many people do not buy based on fear. The more you can reduce their risks the better. Include risk eliminating language such as "no questions asked, money back guarantee" so that all the risk is yours and not theirs.
A Strong Call to Action
Before including your "buy now" or other call to action button, be sure to remind your audience about the benefits of your product or service. Let them know that they have a chance to change their lives by clicking.
Responsive Design
This means that no matter which browser or device is used to view your landing pages, they work. Nothing can be worse than clicking an exciting headline and finding that you cannot read it or act now because the page is not optimized for mobile.
You can also add video to your sales pages. A great place to do that is in the testimonials area, or perhaps include a how to video to highlight and demonstrate how the product or service works. Video enhances the sales page by making it more interactive, creating a way to explain in pictures and words the benefits of your product and / or service to the reader.
All that sounds like a lot of work doesn't it?
Don't worry. It's not that hard these days. With software like LeadPages you can have your new money making pages made in less than hour, assuming you already have your images created, testimonials collected, and story ready to tell. Take a look at the list above and ensure that you are ready so you can get your sales pages made fast.
LeadPages can make your life a lot easier and more profitable, because it is designed to lead you through the process of creating many different types of "money pages" quickly and easily having them live in no time at all. They do all the work of figuring out what types of pages work best, all you really have to do is fill in the blanks with your own ideas, products, and services.  I am using Leadpages here on this website:  Market in 30 Minutes
What is LeadPages?
LeadPages is a cloud-based software as service, that allows you to quickly and easily create "money pages" that you can use in a variety of different ways, integrating with many other marketing software such as Aweber, Ontraport, Facebook, WordPress and more. LeadPages offers many templates (currently about 50) designed to get results. These are generally templates that have already proved successful for others.
What Does LeadPages Do?
LeadPages helps you create functional, responsive, usable landing pages quickly and effortlessly through a variety of template choices. You just choose the template you want, and then edit it to fit your product and / or service and you're done. You can download the HTML version or integrate it with WordPress or Facebook. You can also use the link that LeadPages offers instead.
What Are The Benefits of LeadPages?
They've already done the research and know what layouts work best and get the highest conversions. It's fast to use, and easy to understand. It also integrates with other products very well such as social media, webinar, and autoresponder software. You just fill in the blanks, more or less, on the template to craft a landing page that gets results.
Who Can Use LeadPages?
Anyone who wants to increase their opt in rates, sales, and improve conversions should use LeadPages. If you're running any type of marketing campaign for yourself or a client, you'll enjoy using LeadPages to get the most out of your offers. You won't have to come up with the design or layout on your own. There is no point in reinventing the wheel when it already works so well.
Share this article with these Tweetables:
• Increase your sales with a great landing page – Click to Tweet
• How to use landing pages to draw in more sales – Click to Tweet
• Does your business have a great landing page? – Click to Tweet
• @SusanGilbert explains how to create a great landing page for more sales – Click to Tweet