Create a Content Marketing Strategy That Will Compel Your Audience to Make a Purchase
Is your content marketing producing the conversion rates you would like to see?
Would your audience refer to your articles, video and social media posts as compelling?
It may be time to revisit your strategy and find the areas that are lacking in reaching your community. According to a report by Content Marketing Institute a low number of only 30 percent of B2B marketers consider their content marketing as effective.
An attractive article or post will capture the reader's attention and drives them to want to click on your CTA and find out more. Clear, concise, and original content is just the beginning to this process. An emotional connection to your audience's needs and desires is the magic ingredient to giving your visitors a reason to want to more about your business.
Recently the baby product company, JOHNSON'S®, released a commercial on YouTube that has so far generated over 41,669 views. There are quite a few baby commercials out there that we usually skip through or put on mute, but this video captured the basic human emotion of their audience in a way that compelled the viewers to watch the commercial again and again:

This ad took a lot of careful planning, target market research, and casting interviews before it was fully implemented. This same strategy can apply to any content marketing campaign, and knowing the most that you can about your audience will help you create magnetic content time and time again.
Getting to know your market is similar to the bait used by fisherman. The more low quality the worse results for a true catch. It pays to know exactly what attracts the fish and when and what conditions are most favorable. The same principle applies to finding the right community for your niche. When conducting your research ask questions such as:
• What are their personal preferences?
• Are they low, middle or high income?
• What is their level of education?
• Do they live outside the United States?
• How do they ask questions of other brands in your industry?
• What are their purchase patterns?
• Are they asking questions on a repeated problem(s) that is not being solved?
Once your business learns more about your prospects through a specific buyer persona outline you can create content that will garner their attention, and move them from just visiting to taking action.
JOHNSON'S® is a great example to follow in regards to appealing to a buyer's emotions. When your articles, videos, and posts are able to offer a personalized approach that sets your audience apart from the rest of the crowd you can be much more effective in reaching them on their level. People want to know that you understand their needs and that your customers are important to you. By creating exclusive offers in your content you are making your readers feel special, which will encourage them to want to subscribe or sign up for an incentive.
In order to attract more subscribers who can be converted into sales use these additional content strategies:
• Keep Your Message Simple
Avoid using too many words, and choose instead clear, concise, and simple terms that your audience will understand. Keep in mind that many of your readers are using their mobile devices and you will want to grab their attention from the get-go. Catchy phrases or headlines are very effective in getting their attention, such as these examples from AdCracker:
"The service on Virgin Airlines was like dinner at Buckingham palace."
"Asper's new pain relief liquid works fast as, "Ahhhh.""
• Avoid Weak or Ineffective Copy
Common, run-of-the-mill phrases that are not strong or compelling will blend into hundreds of other content being pushed by advertisers. Instead of selling to your readers, present an offer that they will want to respond to, like this tweet from Buffer: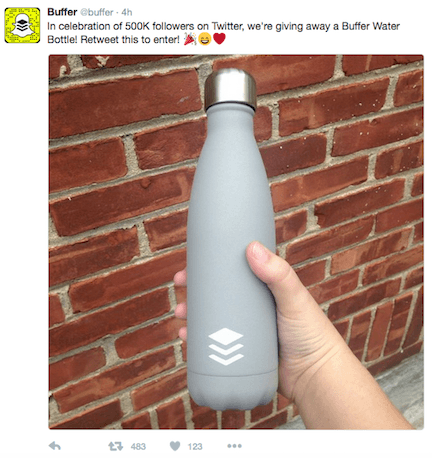 • Set a Deadline
Instead of giving your readers the option to wait and decide whether they will sign up or make a purchase, provide a date that expires. This will compel them to jump on your offer before it goes away, and increases your click-through and open rates. Use phrases like, "Offer Ends Soon," "Only Two Days Left," or "One-Time Special Offer," to grab their attention right away.
• Give Them a Reason to Click Your CTA
A simple "click now" or "sign up" button is generic and won't generate much of a response. In order to reach your audience you need a creative approach that peeks there interest. If you are a B2B business, for example, you can point out results right away like this CTA from author and entrepreneur, Neil Patel: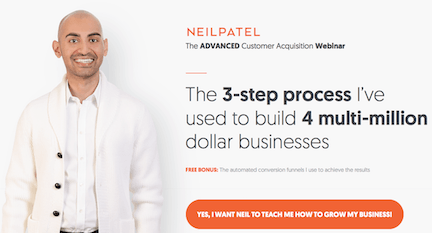 Content that attracts subscribers and converts into sales is a time-tested strategy that is adjusted along the way as the needs of your target market changes. The more readers who are compelled to take action and share your articles and videos the more visibility will be established. Don't be afraid to try out new and creative ideas in this process. If one strategy doesn't work then you can use that to create better copy later on.