1.4K Flares
1.4K Flares
×
Fire Up Your Business with New Leads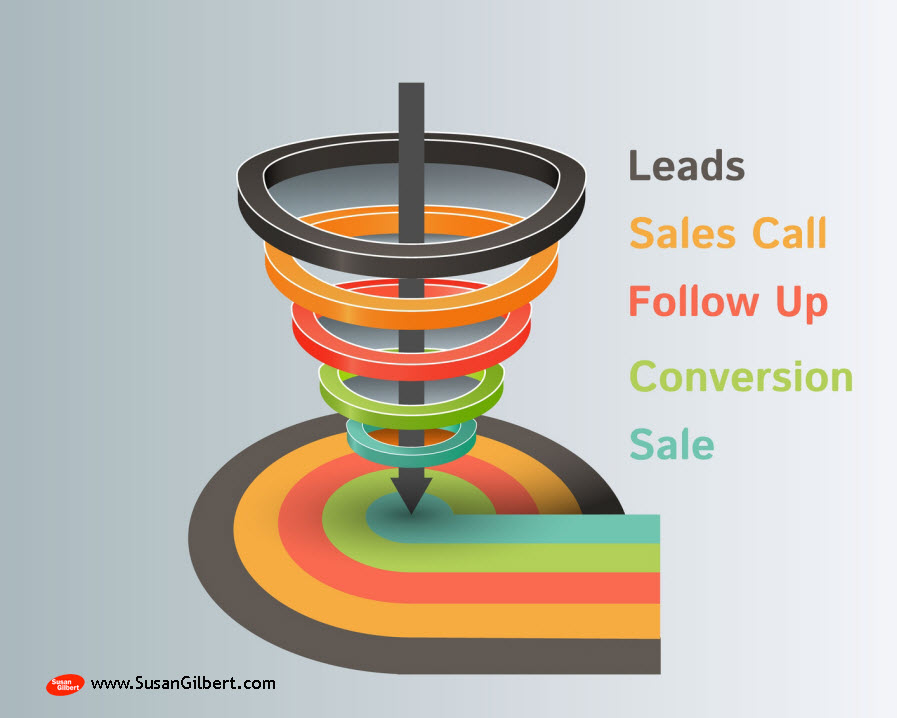 No matter what the method is utilized, lead generation is the fuel that fires the engine of any business.  If we aren't bringing new leads (prospective customers) into our marketing funnel, then you are only hoping for sales and increased business.
Wikipedia describes it as:  "In marketing, lead generation is the generation of consumer interest or inquiry into products or services of a business. Leads can be created for purposes such as list building, e-newsletter list acquisition or for sales leads."
Today, there are two basic approaches to filling the funnel that brings you new leads and customers. You can outbound market or you can inbound market. Outbound marketing is the old school method of sending a mass message (like a television ad) in hopes that the right person will see it and respond.  Inbound marketing is the opposite, and it about attracting a person to your product or services through a series of steps or dialogues.  Both methods are still utilized and after reading this you can decide which is best for your business.
Now that we've taken a look at some of the main concepts involved in developing an understanding of leads and how they are generated, it's time to dive into the specifics of innovative lead generation. These powerful methods have been proven to generate high quality leads, the type of leads your business needs to have in order to stay in the business of making money. Let's get started.
Lead Generation via Interview Method
Nothing spells success more than a warm lead. This method is a way for you to generate quality business to business leads that are, warm, trusting and, most importantly, will convert into sales. Business to business leads are extremely valuable because business clients, whether online or offline, tend to be loyal, long term and lead to referrals. When a business owner is satisfied with the performance of your company's product or service, they are much more likely to recommend you to other business owners they know.
This method works because it eliminates the need for cold calling. No one likes cold calls, neither the person doing them nor the person on the receiving end. Cold calls set up negative dynamic and makes turning a lead into a sale an uphill battle from the beginning.
With the interview method, you invite a business owner to your existing website so that they can promote and showcase what they do to your audience. This sets up a warm, positive dynamic, because it provides the lead with an obvious benefit from engaging with your offer. The free publicity gained from the interview helps develop trust between you and the business owner. Because of this trust, the owner is much more likely to respond positively to your offer when the proper time comes.
Now that you know why this method works so well to generate warm leads, let's take a look at the specific steps you'll need to take in order to have it work for you and your business.
Select a Domain
The first thing you need to do in order to implement this strategy is find a good domain name. One of the best places to this is at UpperCrustDomains.com. Just remember to choose a domain name that describes what your site does and is localized to the region or area where the businesses you're targeting are located. For example, if you are providing services locally, yourtownbizblog.com, yourtownbiznews.com or yourtownlocalbusinessinfo.com conveys locality and purpose to the audience and your leads.  If you are a fiction author, wanting to connect with best selling fiction authors and their readers, you could choose something like:  fictionreadersinsider.com.  See how this attracts fiction readers – your market?
Build an Attractive Website
Once you've got an eye grabbing domain, your next step is to build an attractive interview website. You want to makes sure that the site is designed to make it as easy as possible for you to add and update content. The best and smartest way to accomplish this is to use WordPress.
If you've never used or installed a WordPress site, don't worry. It's very easy to do and there is a lot of free information out there to help you get the job done. You can simply Google "WordPress setup and installation" or if you rather hire someone, my company Online Promotion Success and others could help.
Once you've got your WordPress site installed, you want to make sure that you keep it looking clean, sharp and attractive. Remember, when it comes to a website, less is very often more. Keep the look of your site as focused as your domain name. All you really need is a logo and a few simple graphics that support the purpose of your site and refer to the locality that you are targeting.
The next thing you'll need is a WordPress theme. The theme is the "look" of your site. There are a lot of very good free themes out there. Again, just Google "free WordPress themes" and find one you like or take a look at a site like WooThemes. Once you've chosen a theme, download it and install it on your site as the active theme. If you don't know exactly how to do this, remember Google is your best friend.
You're going to need a nice clean banner logo for your site. Unless you're an expert graphic designer, the only, and best, way to get this done is to hire a designer you know and trust.
Content is King
Now that your website is up and running and looking sharp, you'll need to fill it with some content. Content is any media you use on your site to engage and connect with the visitors to the site. If the website is your "store", the content is the furnishings in that store that gives it ambiance. You want your site to be as warm and inviting as possible because you want people to stay longer on the site and return to the site again. This "traffic" is what will make your site valuable to the business owners you plan on interviewing.
The easiest type of content to produce is five to ten short informational articles. These articles can be about anything, as long as they are related to the locality you are targeting and the businesses in that locality. Don't get hung up on the subject, as long as it is well written and engaging. You might have an article about the history of the locality, or trivia, or little known facts. You can also do a preliminary article about the businesses that the owners you plan on targeting run. If you do, remember to send a copy of the article, or a link to the article, to the owner. This makes an excellent icebreaker and helps start the trust dialogue we discussed earlier.
Line up Interviews
Once you've got quality content on your site, it's time to start contacting business owners in order to begin generating the leads that will help you make money.
The first thing to do is to make up a short list of the specific business owners you are planning on targeting. It's a good practice to keep this initial list short, no more than five businesses to begin with. The exact businesses you do target largely depend on the nature of the product or service you plan on, eventually, offering to them.
Once you have your list compiled, send an introductory e-mail to the owner, or give them a call. (Remember those articles you produced as content for your site? If one of them was about any of the businesses on your list, sending along a copy of the article is a great way to introduce yourself to the owner in question.) At this point, it is important to remember that you are not selling anything. You are simply bringing a great opportunity for free publicity to the business owner.
Once you've broken the ice by contacting the business owners on your list, and you've started to get responses back from them, it is extremely important to get a date for the interview scheduled, get the interview conducted and get the interview out for broadcast on your website. There's no time like the present when it comes to this step. Be willing to work around the owner's schedule, but maintain a strong sense of urgency. If you act like you want to get the interview done, then the odds are interviewee will pick up on your urgency.
Follow Up with Your Offer
Once you've completed the interview and posted it on your site, make sure to send the business owner a follow-up e-mail thanking them for participating and asking them to share the URL for your site with their contacts. After all, the buzz generated from the interview benefits them, as well as you.
Now that you've built a relationship and established trust, the time has come to make your offer to the business owner. Remember, the nature of this offer can be almost anything, but should reflect the specific products or services you are able to offer. The important thing is to remain flexible. Your offer should be tailored to their specific needs as well.
Takeaways for The Interview Method
Interview Method is a powerful lead generator because:

It eliminates the need for cold calling potential leads;
It establishes trust between you and the lead;
This trust creates the opportunity for a sale.

In order to create a website to host the interviews you conduct you need to:

Select an appropriate domain name;
Build an attractive website;
Fill this website with quality content.

Once your website is finished, you need to line up interviews by:

Creating a short list of potential interviewees;
Sending these potential interviewees an introductory e-mail or phone call;
Schedule the interview and get it out on your site.

Once the interview is broadcast, you need to:

Follow-up with a thank you e-mail to the interviewee;
Make you offer to them based on your abilities and their needs.
In my next post, I'll cover another Interview method that can work just as well, just a bit differently.