Schedule Your Instagram Posts with Apps
Would you like to share more posts on Instagram, but don't have the time? This social network is the place to be for engagement and sharing, and a new tools makes it easier to post your images.
There is a great opportunity to connect with more influencers and attract more followers with photos and targeted hashtags throughout each day.
Instagram not only appeals to your target market, but posts can quickly become popular, which makes this network a great place for visibility. The top social network recently reported that it has 200 million users and growing! Just take a look at how many comments can be generated from just one photo in this example posted by Ann Tran:
What makes Instagram unique from places like Facebook and Twitter is the high volume of likes and comments in such a short period of time. Next to Pinterest this is a high traffic social network. There are several great scheduling tools out there for social media, but only a few are available for Instagram. Currently because of the API restrictions none of these programs will allow for automatic scheduling; however, image uploads with the ability to enter text and hashtags can be scheduled and posted at a later time. The time saver here is the ability to get these all into one place for quick and easy sharing. I have tried several programs, and so far Latergramme comes out as a great performer for ease and functionality.Bad news for Android users is that Latergramme is not yet available, but is on it's way.  For you droids, stay tuned – I have something for you as well until Latergramme is available for you.
Latergramme
Currently you can sign up for an account for free right from their website at Latergramme.me, and then connect your Instagram account from there. The basic version allows for one profile with a limited number of photos each month: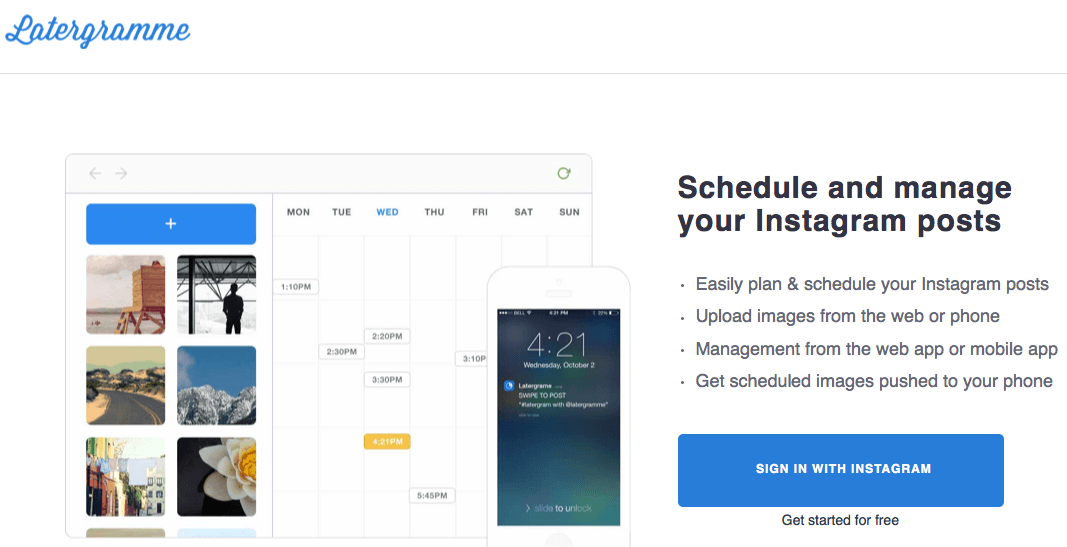 Once you sign in with your Instagram account you will need to authorize your account for access: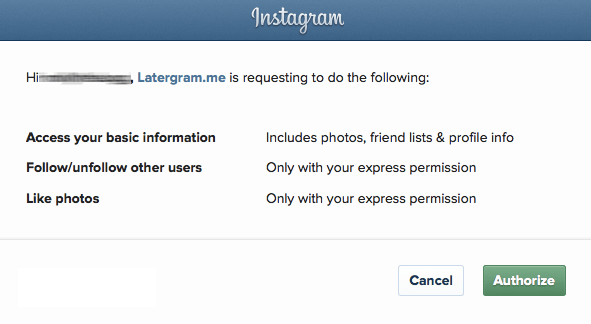 To complete the process enter an email address and password: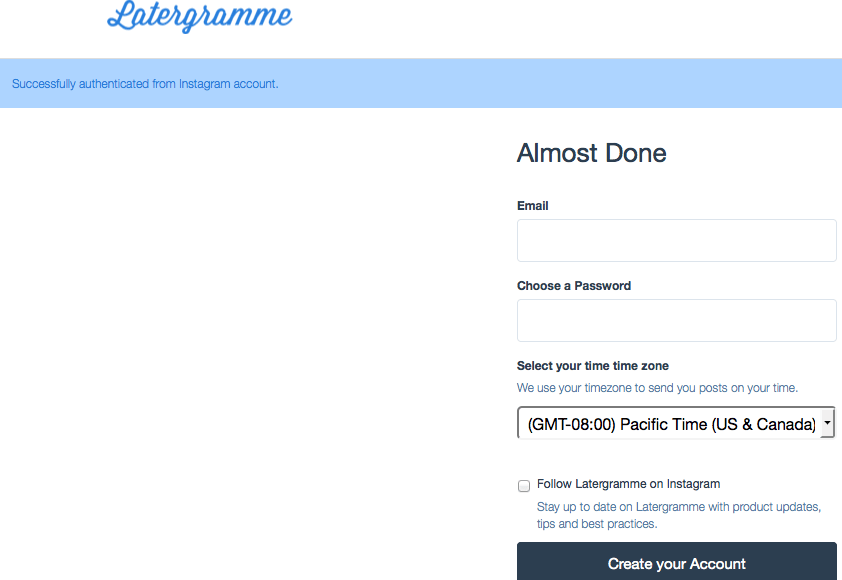 Once your account is created you can install Latergramme on your iOS or Android device: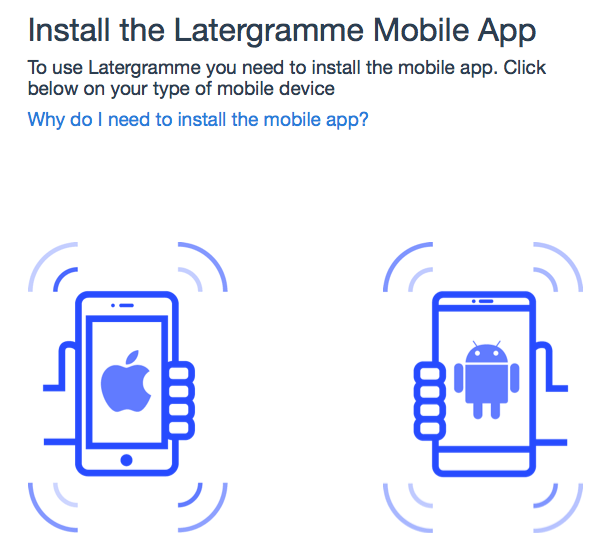 The process is simple to upload images starting with the application on your computer. You can gather royalty-free, high-quality photos from Pixaby, Flickr, or create your own with programs like Adobe Photoshop and Canva. The most action will come from posts that are 8.889 x 8.889 inches or 640 x 640 pixels, high-quality, targeted, and engaging. Take a look at this post I made recently as an example:
I used Canva to create this post, which now has pre-formatted free templates just for Intagram. Once you have created your images, just go directly to your Dashboard to upload: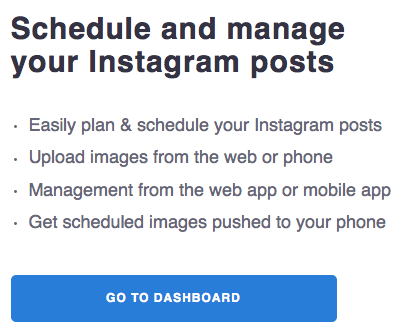 Latergramme offers you a calendar with different times to choose from.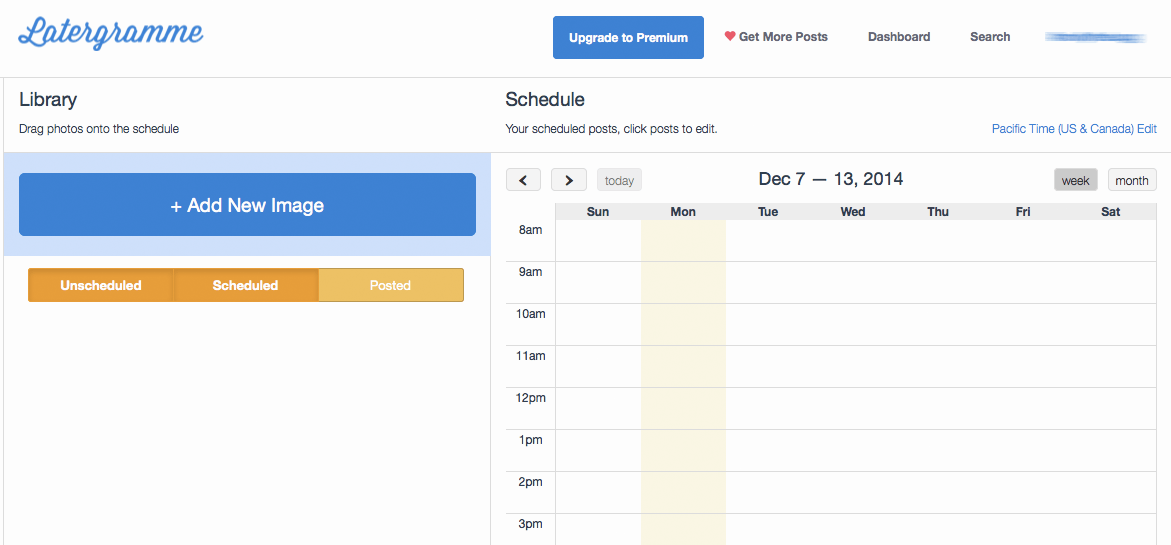 Once you click the button you can upload your image and add a caption. If the image is too large, Latergramme will provide a crop box for placement. Any images under 8.889 inches or 640 pixels cannot be used.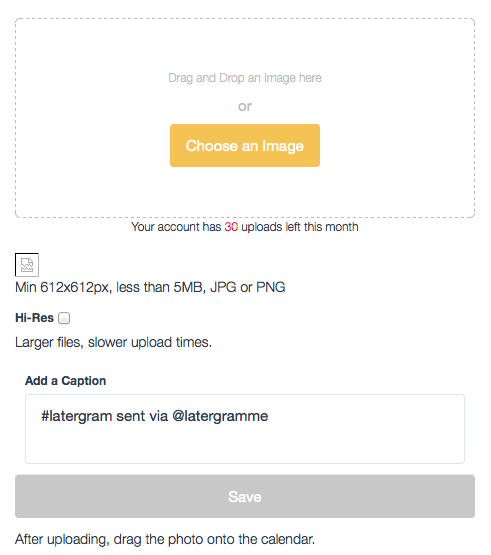 When your photo is uploaded, just click and drag it to the desired date and time on the calendar. When you are ready to post your content will be available on your mobile app: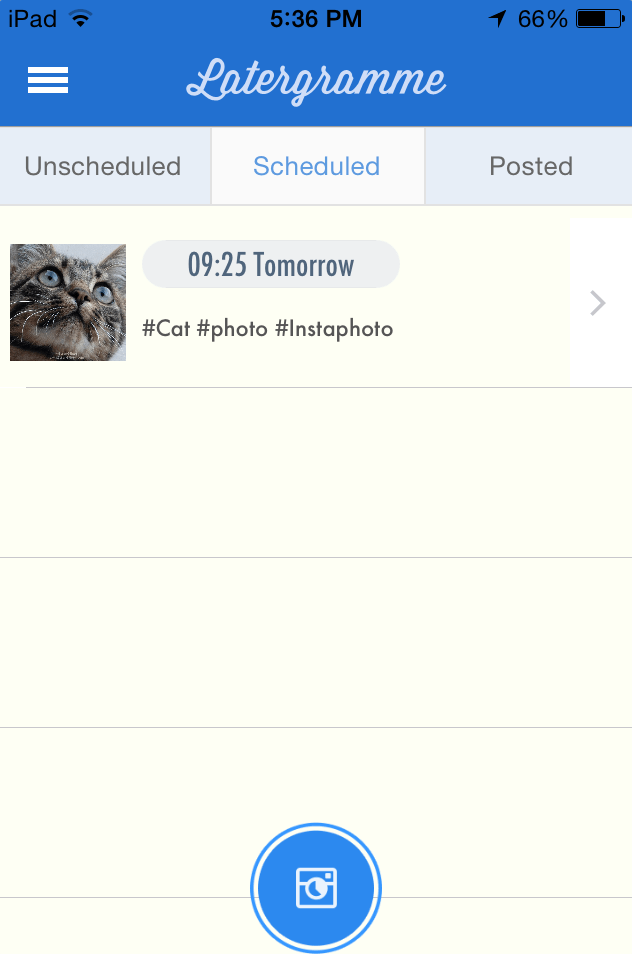 Once you drag to swipe the image to the right, Latergramme will automatically connect to your Instagram account where you can post as usual. Be sure to be logged in, otherwise the app will not load properly. This is where the time saving comes in, as your caption and hashtags are already pre-loaded. Add images throughout your day, or all at once. You can check your Dashboard later to view what has already been shared.
If you are a brand or business is just starting out on scheduling posts for Instagram, then the free version of Latergramme is a great choice. The paid version offers 250 posts per month and two accounts; however, other programs offer more accounts to be added when paying a monthly fee. The sharing of images on Instagram is a lot easier when managed with this type of service.
Watch for my next blog post that will cover a tool for Android users:  Instagram Scheduler for Android Apps – TakeOff Review.