1.6K Flares
1.6K Flares
×
How to Use Psychographic Data in Your Marketing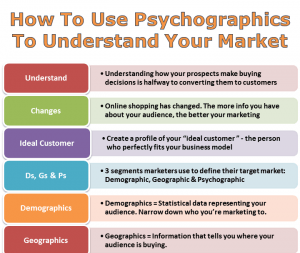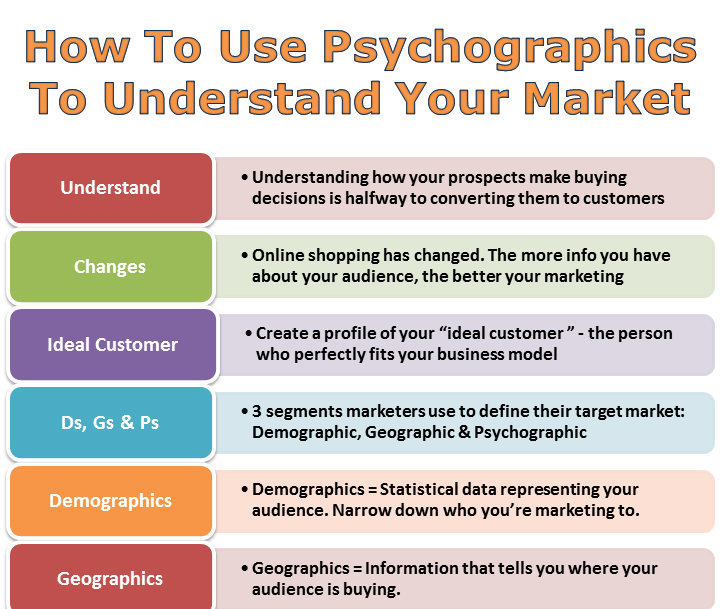 Let's say that you've spent the time, energy, and money to gather all of the psychographic information about your audience. You now have an accurate understanding of who they are, how they behave, and why they behave the way they do.
You know their needs, wants, and motivations.
Now what? What do you do with all of that information?
You use the psychographic information you gather everywhere in your business. Every component of your marketing strategy is impacted by your customer profile. For example, your branding and unique value proposition can now speak directly to your customer's actual wants and needs.
How you package and promote your products and services can reflect the information and benefits that are most important to your audience. Your sales copy, blog content, email content right down to the headline and the language you use in your content all reflects the language and benefits that your prospects prioritize and understand.
Your call to action can even be fine-tuned to speak in a language that your prospect understands. Every aspect of your marketing strategy and plan are impacted by your psychographic information and a stronger understanding of who your audience really is.
Ways to Use Your Psychographic Data
Let's take a look at five different ways you can use your psychographic data in various areas of your marketing.
Customer Profiles
When you begin crafting any marketing piece you need to always keep your customer in mind. You may have originally created a customer profile in your business plan. You may have only used demographic information to help define your profile, and maybe some guesses about psychographics.
With the additional research you've done, you now have more information to work with and can use your psychographic data to create one or more narrowly focused customer profiles. For example, you might have a work-at-home mom profile and a single dad profile. Both are customers but each has their unique characteristics.
Take a look through the data you gathered and look for ways to divide up your customers into distinct profiles, or personas. Any time you start saying that you appeal to 'this group' AND 'that group', you probably need two different customer profiles.
The important thing is to look for key differences, commonalities, and trends in the needs, personalities, behaviors and other psychographic data. During the process, you'll also be able to start ruling out characteristics that are NOT part of your target market's profile too. Those elements are just as important to keep in mind. For example, your market may respond better to casual language and be turned off by formal or pretentious-sounding words.
List Segmentation
Using your new and improved customer profiles you can now apply that information to your customer database and email lists. For example, an email to single dads might be quite different than an email to work-at-home moms.

Again, both may be on your lists of prospects or customers, but the marketing messages will be different. Depending on the features of your Customer Relationship Management (CRM) platform or email platform, you can segment your list to make sure each prospect is getting the right information from you.
You probably won't be able to do this type of segmentation right away, and you may even want to move to a more advanced system if you don't have the capability. For example, you'll need a way of assigning customers and prospects to the correct segments. This could mean trying to gather data from them directly that automatically puts them in relevant segments. Or, it could mean assigning them to different segments based on what they download, click, or buy.
Be sure to look at all the capabilities of your current email or CRM platform to see what you can do. And, if you're going to be signing up for a new system, make sure you have the ability to segment your prospects and customers.
Language
When creating your profiles and related marketing content, keep in mind that your messages may use different language. For example, single dads may be more responsive to masculine language and sports metaphors than work-at-home moms, as a generalization. Or, social media abbreviations might be much more relevant for teenagers and young adults, while the over 65 crowd may not understand them.
Even something as simple as the pronouns you use in your content can make an impact. For example, if one of your target markets is predominantly female, you'll want to refer to 'she' when talking about something like the use of your product. It will make it instantly relevant to your target customer and make her feel she's included.
When writing marketing content, keep your profiles in mind and make each message different based on the profile you are speaking to. Look back through your data again if you're not sure of the language you should be using. Even more importantly, make a standard list of do's and don'ts when it comes to language used in marketing materials. Make sure anyone creating content for you has a copy of those standards, along with the profiles of your target market.

Marketing Channels
The channels you use for delivering your content, communicating your messages, and promoting your offers will also differ depending on the customer profile you're marketing to.
For example, Pinterest has been described as a great social media site for women, but men aren't as present there as they are on other social media sites. Obviously, this isn't a hard and fast rule. Channels like social media change over time, especially as their current audience gets older and their own preferences change.
Use your psychographic profiles when you're doing any major planning as well as when you're choosing channels and tactics. Look for where each of your target customer personas are hanging out online and offline. Look at where they are doing their socializing, research, shopping and buying. Then target your messages to both where they are AND what they're doing in those places.
For example, if your target profile is just looking for ideas on Pinterest, create an ideas board that has links to your content. If they then go to Google to search for an item, make sure you have SEO'd content that reflects what they're looking for and the language they use to search for it.
If another segment of your market spends more time on getting social recommendations on Facebook, you might want to focus some of your marketing on getting in front of that group with a giveaway offer or contest. Something that's specifically targeted at solving their problem will definitely get their attention.
Sales Copy
You don't have to send everyone to the same sales page. Your promotional content as well as your sales pages and promotional material can be created for each of your unique customer profiles.
Try setting up different landing pages for different segments of your market. Depending on who you're marketing to at the time, use the relevant url for that market. That may mean different ads with different sales copy going to different urls. It could even mean completely different promotions or list-building giveaways.
Then split test your sales copy in each segment. These A/B tests will tell you what works best for each customer profile. For example, you could set up two versions of the landing page for your single dad profile, and just change the headline in each. When you publish new content or do a promotion that sends people to that landing page, you can use a tool like Google Analytics to send half your traffic to one version vs. another.
When you hyper-target your landing page copy this way, you'll likely see a big jump in conversions.
Just remember to always use your customer profiles when writing or creating any type of content for sales pages, emails, products, contests, promotional items and contest prizes. For example, a single dad might be more interested in winning a ticket to a big sports event, while a work-at-home mom may prefer a spa package. That doesn't mean that women don't like sports events, but your profile should tell you this type of information.
Want to learn more?
I've created an indepth ebook: HOW TO USE PSYCHOGRAPHICS TO UNDERSTAND YOUR MARKET
PLUS a Competitive Research Worksheet and a Tools and Resources Sheet

Ebook contains Content Not Posted along with Bonus Worksheets
When you understand how and when your prospects make buying decisions, you're halfway towards converting them to customers. This 32 page ebook and accompanying worksheets will take you from Determining Who is Buying your Products or Services right through to Putting It All Together.
Available for Download Now
Chapters in my ebook:
3 Graphic Segments That Make Up Your Target Audience
Why Demographic and Geographic Data Isn't Enough
The Key Elements of Psychographic Profiling
The 10 Components of Psychographics
How to Gather Psychographic Data from Your Audience
How to Use Psychographic Data in Your Marketing
Tracking Your Results
Conclusion: Putting It All Together
Bonus: Competitive Research Checklist

Add this infographic to your website by copying and pasting the following embed code: